SAIW Presidents' Awards for NDT Level 1 – Sunithi Barends
A RISING STAR IN NDT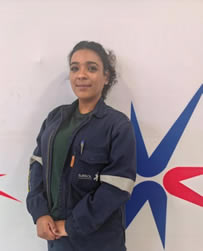 Sunithi Barends is the recipient of the SAIW 2023 Presidents' Award for Non-Destructive Testing (NDT) for her top marks in the Level 1 SAIW course. With her exceptional dedication, relentless perseverance, and passion for what she does, Sunithi's journey is an inspiring story of success in a highly competitive field.
Sunithi says; "I am honoured and proud to have won the Presidential Prize and been chosen out of all the brilliant students. I am particularly grateful to my colleagues in my current Sasol Inspection Learnership at SAIW who have contributed so much to me winning this award.
Sunithi's prize of a R60 000 bursary from the SAIW will cover her SAIW NDT Level 3 Basic course, as well as UT2, and VT2 modules and she says; "This award and recognition will increase the momentum of my career path as an inspector and NDT technician, as well as my pursuit of becoming an NDT Level Three and Inspection Specialist."
Challenges faced and overcome
In terms of the challenges she has faced, Sunithi delves into a universal struggle, saying, "Many can relate to a fear of failure and self-doubt. One of the most important lessons I have learned through this journey is to understand that it's only a failure if one gives up, and perseverance is key to staying focused and determined."
Elaborating on her approach to adversity, she says, "Being able to adjust and adapt in seemingly negative circumstances is important to ensure that I stay self-motivated and keep self-doubt at bay, to stay focused and solve the problem at hand instead of giving up to failure."
Sunithi emphasises the significance of a strong support system commenting, "Having a sturdy and dependable support system in terms of family, friends, and mentorship is important to have to keep one grounded, but also to encourage and support when feeling stuck or in need of a pick-me-up, to keep moving forward."
Collaboration and Innovation
Sunithi also discussed the importance of collaboration and innovation in the welding and NDT industry. "As one of the 20 students at the Sasol Inspection Programme, she has found it important to have an open, healthy, and collaborative relationship with other colleagues to bring about new perspectives to challenges, methods, ideas, and problem solving."
Highlighting her dedication to self-improvement, she has always considered herself a team player and has encouraged my self-development through the interpersonal contributions of my colleagues and mentors."
Sunithi attributes a significant portion of her academic development to her collaboration with SAIW and the institute's exceptional lecturers. She remarks, "Particularly the contributions of the exceptional lecturers at the institution who have contributed to my achieving this award, through always being willing and showing dedication to excellence throughout my current learnership."
Advice for aspiring professionals
Sunithi says; "Through my learnership and experiences, I have found mentors that have contributed so much to my ambition, which has aided in my pursuit as a life-long learner and continuous self-development."
She encourages aspiring professionals to remain curious and committed, saying, "I would advise aspiring professionals to never be afraid to learn from everyone and anyone. It is important to stay curious, never stop learning, stay motivated, and achieve excellence one step at a time."
In recognition of her dedication, perseverance, and passion, Sunithi Barends stands as a shining example in the field of NDT and welding. Her words and achievements inspire the next generation of professionals to embrace challenges, seek support, and relentlessly pursue their dreams, one step at a time.