SAIW Presidents' Awards for NDT Level 2 – Kurt Du Plooy
ELEVATING EXCELLENCE IN NDT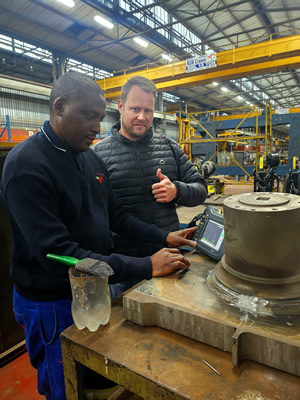 Kurt Du Plooy has claimed the prestigious SAIW PRESIDENTS' AWARD FOR NDT Level 2 thanks to his top scoring marks after completing this course. His recognition was driven by his latest accomplishment in the field, securing his UT Level 2 qualification, making it his fourth Level 2 method alongside VT, MT, and PT.
Kurt's journey in NDT began with a strong foundation in welding. He initially pursued a red seal artisan welder qualification, setting the stage for his future endeavours. During the early stages of his career, Kurt undertook a welding inspection and fabrication course, focusing on levels 1 and 2.
It was during these courses that the topic of NDT briefly surfaced, igniting his curiosity and desire to delve deeper into this field. His journey commenced with MT Level 1, and from there, Kurt's passion for NDT soared.
Triumph over challenges
Kurt's professional path was not without its share of challenges. He found himself in the workforce at a very young age, making studying seemingly impossible. Nevertheless, his journey at Transnet as a general worker commenced in 2003.
Kurt's experience in semi-skilled welding was swiftly recognized by his foreman, setting the wheels in motion for his progression. He applied for an article 26D and successfully passed a trade test, earning him the esteemed title of a red seal artisan welder.
But Kurt's pursuit of knowledge didn't stop there. Driven by a need to better himself, he embarked on a path of self-improvement over the last decade. His commitment to learning and self-growth is a testament to his determination to overcome any obstacle that came his way.
Innovations through collaborations
Kurt's professional journey has seen him collaborate with international entities such as China North Rail, Bombardier, and Alstom on various projects over the past decade. These collaborative experiences have provided him with a comprehensive understanding of the industry's trajectory and have served as knowledge-sharing platforms.
Collaborations on international projects offered Kurt a broader perspective on the industry's future. The exposure to diverse practices, insights, and global expertise has expanded his knowledge base. As he looks ahead to the next decade, he is excited about the industry's evolution and the innovations it holds.
Overall, Kurt attributes his successes and the unwavering support he received to multiple factors. He extends his gratitude to Transnet for the opportunities provided to study and advance his career and he underscores the instrumental role played by the remarkable team at SAIW. "The quality of education, the professionalism displayed by instructors, and the motivation I received from them all contributed significantly to my professional growth," he explains.
Kurt's accomplishments serve as a source of inspiration for aspiring professionals, emphasizing the significance of continuous learning, adaptability, and a positive attitude in the journey toward excellence in the welding and NDT field.