STAFF PROFILE: Frank Lebakeng
A PROFESSIONAL COMMITTED TO FINANCIAL PRECISION AND SECTOR GROWTH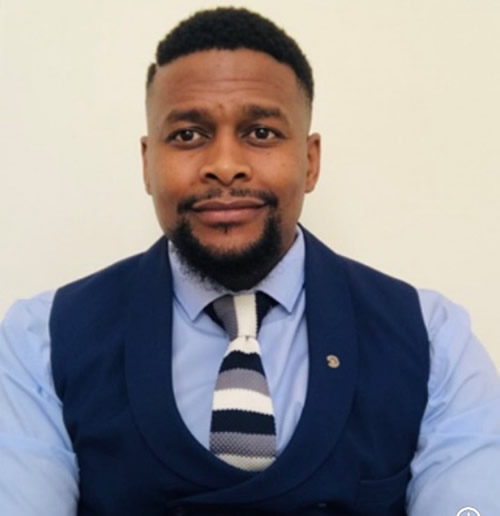 In the world of welding and metallurgy, where precision and expertise are of utmost importance, professionals who embody resilience, dedication, and an unwavering commitment to personal growth are invaluable assets. SAIW Accounts Manager/Administrator Frank Bataung Lebakeng is a perfect example of this.
Frank's story begins in the Free State town of Ficksburg, Meqheleng, Zone 8. Growing up in a close-knit community, Frank received his early education at Masaleng Primary School, followed by his matriculation at Marallaneng Secondary School, renowned for its academic excellence.
Frank's dedication to education and learning would later become the foundation of his impressive career. However, his journey towards higher education took an unexpected turn.

Navigating financial challenges
Frank's pursuit of higher education led him to study IT at MSC College in Pretoria. However, financial constraints forced him to temporarily pause his academic journey. Faced with adversity, Frank took a different path, seizing an opportunity that would shape his career.
He joined the finance team at the Kulungile Metals group and embarked on a study opportunity in Credit Management with Credit Blende Training in Bedfordview. This pivotal decision marked the beginning of a remarkable journey into the world of finance and business.
A Solid Foundation in Practicality
Frank's initial years in finance provided him with invaluable practical experience and were a crucible of learning, reinforcing the notion that education extends beyond the classroom. "The practical challenges of managing finances, dealing with credit, and navigating the complex world of risk management were some of the key lessons that have defined my career.
"Through these experiences, I came to understand that success is an ongoing journey. It's not merely about achieving a particular status but about continually bettering oneself and embracing challenges with resilience and determination," he explains.
Joining the SAIW family
Frank's professional journey took an exciting turn when he was offered an opportunity to join SAIW. Initially, he worked as an admin temp but soon secured a permanent position within the finance team, where he now serves as a Finance Administrator and Accounts Manager.
Since becoming a part of the SAIW family, Frank has come to appreciate that welding is a multifaceted field that goes beyond merely fusing metals. His financial acumen and meticulous attention to detail have been invaluable assets in the finance department.
Challenges in the welding sector
In Frank's eyes, the welding sector's most pressing challenge lies in the scarcity of experienced and, more importantly, qualified welders. He comments; "It's a hurdle that affects the industry's growth and competitiveness. However, I firmly believe that the SAIW is part of the solution, having played a pivotal role for over 40 years by offering quality training to welders on a global scale."
The SAIW's crucial role
Frank highlights the importance of SAIW in assisting the local welding industry. He points out that the institute's well-developed courses, overseen by industry-based committees and taught by qualified and experienced lecturers, provide the necessary knowledge and skills to shape the future of welding.
In terms of innovation, Frank says that robotic welding is the most exciting advance in recent years. As robotic welding technology continues to progress, it promises to enhance efficiency and precision in manufacturing processes, saving time and resources for increased production.
A philosophy for life
In terms of Frank's philosophy in life is simple yet profound: "Never Stop Believing." This mantra sums up his unyielding determination to overcome challenges, seek continual improvement, and maintain unwavering faith in the journey ahead.
Frank's personal aspiration in the near future is to complete a challenging 42-kilometre road race, a testament to his determination and physical fitness. On the professional front, his goal is to maintain pristine and well-organized accounts, ensuring they are audit-ready at all times.