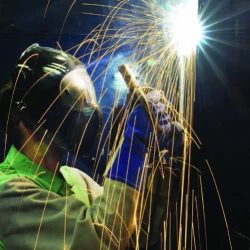 SAIW has a state-of-the-art practical welder training school, with forty welding bays, at its Johannesburg head office. The school is staffed with training instructors qualified to local and international standards.
SAIW can assist companies to improve both quality and productivity by improving the skill levels of their employees. The same programmes are also accessible for individuals to allow them to achieve skills and certification which help them secure employment.
Trainees use industry standard equipment with each training booth fitted with fume extraction. The use of materials and consumables is unlimited enabling trainees to make maximum use of training time. Most training is conducted using carbon steel but special training for welding stainless steel and aluminium can be arranged.
Programmes offered for practical welding vary according to individual needs. The basic programmes are aimed at certification to code of construction levels using SAIW welding procedures or employer procedures. The type of training may be booked on a week by week or longer basis until the required qualification level is achieved. For higher level programmes SAIW uses the IIW International Welder Qualification Programme which incorporates theoretical training to ensure the welder has a better understanding of the basics of welding technology. The IIW programmes allow entry at various levels to take account of prior skills training.
SAIW is also an approved QCTO skills provider and its programmes are recognised for the vocational skills training requirements of apprentices. SAIW can enter agreements with employers, in which SAIW conducts the training school component (theoretical and simulated practical learning) of an apprenticeship and the employer provides the workplace learning.
The SAIW Instructors also conduct in-company training programmes where employers want to upgrade the skills of employees for specific manufacturing tasks.