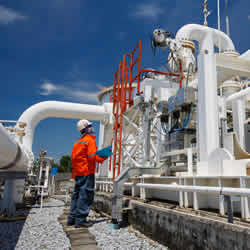 Welding and Fabrication inspectors find employment in many industries in South Africa notably, the metal fabrication, construction, power generation, transport, oil and gas, coal to fuel and other process industries. Our research shows that SAIW qualifications offer students improved employment prospects and a route to build a career.
Inspectors can enjoy a long and satisfying career in their chosen field but with experience they, also, develop a solid technical basis, which allows them to move into other areas such as production management, quality assurance and control, risk management, third party inspection and technical management.
The first SAIW welding and fabricator inspector course was held in 1980 and there were 15 successful students that year. Since then there have been more than 10 000 successful students on  inspector courses. Not all these qualified people remain in South Africa and whilst we need more skills in our country it is also a source of pride that SAIW students can find work on the west coast of Africa, in the Middle East, in Australasia and just about anywhere in the world.
To further enhance this mobility and recognition of qualifications the IIW system for qualifying welding inspectors has been adopted and is integrated into the SAIW Level 1 and 2 programmes which incorporate IWI Basic and Standard Levels respectively.
The SAIW courses are reviewed and refreshed frequently in conjunction with industry to make sure they are current and always meeting industry needs. SAIW also takes care to align the courses with the requirements of specialist inspector certification systems such as the SAQCC Competent Person (CP) and Inspector of Pressurised Equipment (IPE).
At the pinnacle of welding inspection SAIW offers the IWI Comprehensive Level course and qualification which ideally sets up a welding inspector as an inspection specialist or inspection function manager.
Email: weld.insp@saiw.co.za