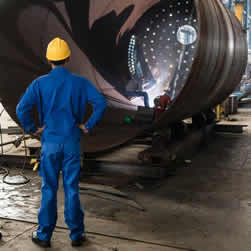 SAIW welding supervisor courses were first introduced in the 1980s. They were designed with the help of industry representatives to ensure that welding supervisory personnel had adequate technical knowledge to develop suitable welding practices and procedures for their fabrication responsibilities and to
provide the necessary support and instruction for production personnel.
The SAIW Welding and Fabrication Supervisor Level 1, 2 and 3 courses served industry well for about twenty years. In 2002 SAIW joined the IIW International Authorisation Body (IAB) and converted to the IIW system for education and training of welding personnel which is aimed at addressing the requirements of relevant ISO standards such as ISO 14731 welding coordination –
tasks and responsibilities and ISO 3834 quality requirements for fusion welding. In the IIW system there are four levels of welding coordinator qualification namely, Practitioner, Specialist, Technologist and Engineer.
SAIW offers courses leading to the International Welding Practitioner (IWP), International Welding Specialist (IWS) and International Welding Technologist (IWT) qualifications. SAIW provides support for the International Welding Engineer (IWE) programmes which are offered at the University of Pretoria and the University of Witwatersrand.
The IWP qualification is ideal for first line supervisory personnel such as a charge-hand in a fabrication shop or on a construction site. It is also ideal for a practical welding instructor. The IWS qualification has an increased level of theoretical content and is aimed at more senior production supervisors such as a senior foreman. It is also ideal for welding school instructors  presenting theory and practical training modules. Welding and fabrication companies intent on producing high quality levels should consider these qualifications as mandatory requirements for their staff. The added knowledge gained by staff will reduce rejection rates and at the same time give confidence to clients. The IWT qualification is ideal for staff involved in production and technical management. IWT and IWE qualifications are suitable for staff with the overall responsibility for managing quality through approving the welding processes and procedures used in construction and manufacturing as well as leading teams of supervisors.
Email : weld.tech@saiw.co.za