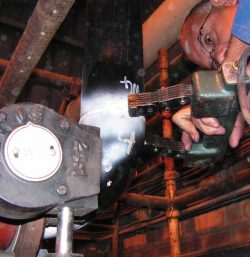 Magnetic Testing (MT) refers to a surface and very limited subsurface Non-Destructive Testing method that relies on the magnetic nature of the relevant material being tested, to reveal any discontinuities on the surface or major longitudinal indications just below the surface. The material should therefore allow for magnetic fields to be generated inside or pass through the material, hence the requirement for material is that it should be ferromagnetic which means that the material should have a magnetic permeability much greater than 1.
If you are interested in magnetism and would like to find out how magnetic fields are used to detect discontinuities in ferromagnetic material then Magnetic Testing is the place to start your career in NDT.
Inspection techniques depend on the type of current being used to magnetise the material, whether the excitation current is maintained during the application of magnetic particles or not as well as nature of the magnetic field generated i.e. linear or circular.
In addition the technique description should also refer to the type of magnetic particles used to make indications visible.
The training course is based on general theory as well as sector specific applications relating, but not limited to, the following standards and specifications:
ASME Boiler & Pressure Vessel Code – Section V – Subsection A – Article 1 & 7
ASME Boiler & Pressure Vessel Code – Section V – Subsection B – Article 25
ISO 9934 Parts 1 MT – General Principals
ISO 9934 Parts 2 MT – Detection media
ISO 9934 Parts 3 MT – Equipment
ISO 12707 MT – Vocabulary
ISO 17638 MT – Welds
ISO 4986 MT – Castings
ISO 23278 MT – Acceptance Levels
Dates
Costs

 
Magnetic Current Testing – Level 1
Training & Initial Examination ( Non Members) – R15 980.00 (excluding VAT)
Training & Initial Examination (Members) – R14 780.00 (excluding VAT)
Initial Certification – R2 570.00 (excluding VAT)
Magnetic Current Testing – Level 2
Training & Initial Examination ( Non Members) – R15 980.00 (excluding VAT)
Training & Initial Examination (Members) – R14 780.00 (excluding VAT)
Initial Certification – R2 570.00 (excluding VAT)
Download Magnetic Current Testing (MCT)