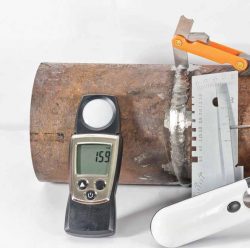 Visual testing is the most simple and commonly used NDT methods utilised today. Visual testing is very often the first inspection that is performed on any component or in any environment since you have to observe what you need to inspect and the inspection area. Visual testing is very much a surface inspection method. Visible light (within the 390 – 700nm range of the electromagnetic spectrum) and the interaction of it with a solid surface are used to detect indications that are open to the surface and that is not masked by any foreign material or debris. So effectively, what you can see is what you can detect.
If you enjoyed working with lenses and mirrors in high school and if lasers fascinates you, then you are invited to attend a course in the most basic of all NDT methods and challenge you to become the next 'Sherlock Holmes' – certainly the most famous 'visual testing specialist' of all times.
The visual testing method can be divided into three main techniques depending on the access to the surface. The techniques are direct, indirect and translucent and depend on the type of material to be tested.
The training course is based on general theory as well as sector specific applications relating, but not limited to, the following standards and specifications:
ASME Boiler & Pressure Vessel Code – Section V – Subsection A – Article 1 & 9
ISO 3058 VT – Low power magnifiers
ISO 8785 VT – Geometrical product specifications
ISO 13385 Part 1 VT – Geometrical product specifications : Callipers
ISO 13385 Part 2 VT – Geometrical product specifications : Calliper depth gauges
ISO 11971 VT – Castings
ISO 17637 VT – Welds
Dates
Costs

 
Visual Testing  – Level 1
Training & Initial Examination ( Non Members) – R15 230.00 (excluding VAT)
Training & Initial Examination (Members) – R14 090.00 (excluding VAT)
Initial Certification – R2 570.00 (excluding VAT)
Visual Testing  – Level 2
Training & Initial Examination ( Non Members) – R15 230.00 (excluding VAT)
Training & Initial Examination (Members) – R14 090.00 (excluding VAT)
Initial Certification – R2 570.00 (excluding VAT)
Click here to download Visual Testing (VT)