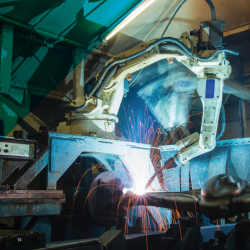 The Robotic Welder training course is designed to give the candidate the necessary theoretical and practical knowledge on welding technology by equipping him/her with the skills to manage all aspects of a robotic welding operation including design and programming of the welding task, safety and troubleshooting of the welding operation.
The course also serves as a foundation to more advanced robotic welder training by SAIW partners.
The course will consist of the following:
Practical axes of RW Systems
Co-ordinate Systems in Robotic Programing
Structure of Welding Systems
RW Programming and Efficient Use
Welding Processes used in RW
Programming of Robots in welding applications
Seam tracking systems and sensors used in RW
Joint Preparation for RW
Maintenance of RW Systems
Theory welding terms and abbreviations
Welding joints
Welding processes
Welding defects including ISO 5817
Basics of Materials
Welding Operator qualifications
WPS Qualifications
RW health and safety
Welding Symbols
Introduction to NDT
The training includes a practical module which will teach the Welding Operator the Programming of the robot.
Email : weld.tech@saiw.co.za