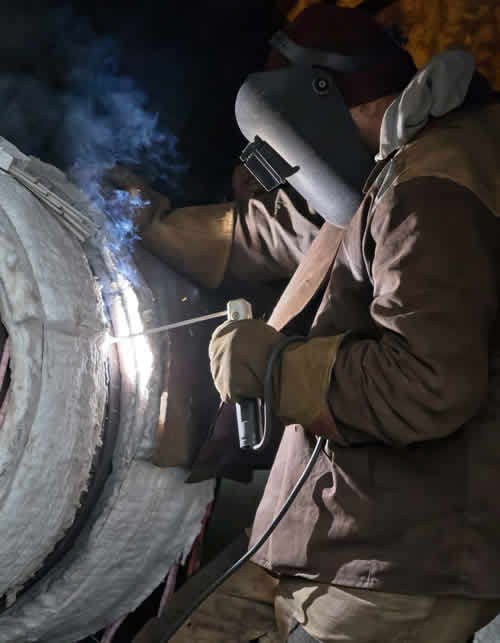 COURSE INFORMATION
Heat Treatment Practitioner performing local heat treatment of welded fabrications on site, or in a workshop, using resistance heating, will benefit from this course. The course is also suitable for maintenance personnel who are responsible for supervising heat treatment operations. Candidates who preferably have a Grade 10 Qualification as well as experience in engineering and/or metal working is recommended.
Course Information
Covers heat treatment requirements for the fabrication of pressure vessels, steam generators and process equipment.
The following Fabrication Codes are dealt with in this course:
ASME VIIIBS2633
Course Content
Theory:
Basic metallurgy
Heat treatment definitions
Welding processes
Welding effects on materials – why is heat treatment necessary?
Heat treatment cycles, heating and cooling rates, soaking  temperatures, soaking times
Code and material specification requirements for welding
Pre-heat, post-weld heat treatment, normalising, annealing, hydrogen removal
Methods of heat  treatment
Equipment
Practical:
Determining pre- and post-weld heat treatment requirements to codes and standards
Determining heating and insulation band widths
Determining heating configurations on nozzles
Setting up equipment for weld heat treatments – thermocouples, heaters, insulation
Operating heat treatment equipment
Course Duration
3 days
Course Schedule
For the below courses, book by emailing info@saiw.co.za. As soon as the minimum number of people have been booked in your region, the course will be scheduled.
Pricing (Including VAT)
Corporate Member – R29,400
Non-Corporate Member – R31,800
Successful Candidates will
understand the necessity to perform pre- and post-weld heat treatments
be able to determine heat treatment cycles in accordance with various codes
be able to set up and operate heat treatment equipment
Download Heat Treatment Practitioner  Training Details