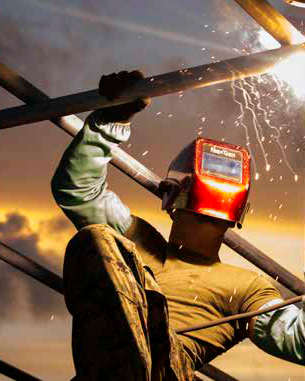 The International Institute of Welding (IIW) has adopted the International Welder (IW) programme to address the need for highly skilled welders and to achieve global harmonisation in the training, examination and qualification testing of welders.
Training and assessment in the IW programme are linked to the requirements of the international standard, ISO 9606 qualification testing of welders. The ISO 9606 standard is widely used in South Africa, but it is important to note that it is similar to other standards which are relevant in South Africa, eg. ASME IX and AWS D1.1.
The IIW programme provides a combination of theoretical knowledge and high-level practical skills assessed by tests of increasing difficulty and by theoretical examinations.
The programme is presented at three levels – fillet, plate, and pipe welder. Trainees are required to start with fillet welding and must pass a practical competency test before progressing to the next level. Training periods for practical welding vary from person to person.
Experienced welders are not required to undertake unnecessary practical training and may enter the IW programme at any level subject to completing the relevant level practical qualification test including those required for lower levels. A welder fully competent in fillet, plate and pipe welding would undertake the practical test for all three levels and would then undertake only the relevant theory components.
It is important that at each level there is an associated level of theory, plus there may be process specific and material specific theory modules which are applicable.
Email : prac.weld@saiw.co.za