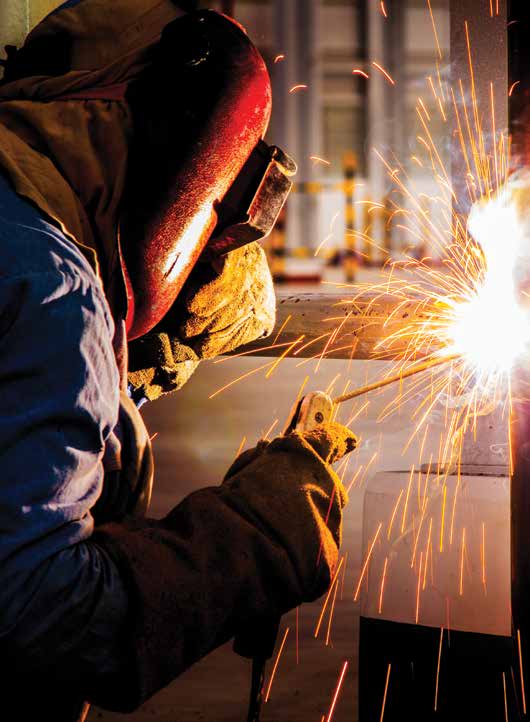 Employers of work projects and maintenance in the oil and gas, process plants, power generation and construction industries need their welders to have high skill levels. The consequences of weld failure are extremely severe in these industries both from the point of view of the safety risk to employees and the general public but also from an economic risk.
The International Institute of Welding (IIW) has developed the International Welder (IW) programme to address the need for highly skilled welders and to achieve global harmonisation in the training, examination and qualification testing of welders.
Training and assessment in the IW programme is linked to the requirements of the international standard, ISO 9606 qualification testing of welders. The ISO 9606 standard is widely used in South Africa but it is important to note that it is similar to other standards which are relevant in South Africa, eg. ASME IX and AWS D1.1.
The IW programme provides a combination of theoretical knowledge and high level practical skills assessed by tests of increasing difficulty and by theoretical examinations. The programme is presented at three levels – fillet, plate and pipe welder. Trainees are required to start with fillet welding and have to pass a practical competency test before progressing to the next level.
Training times for practical welding vary from person to person, but it is stressed that some individuals may be able to complete modules in shorter times and some may take longer than this. The time taken to complete a particular module is not necessarily an indication of the final skill level that will be achieved.
Experienced welders are not required to undertake unnecessary practical training and may enter the IW programme at any level subject to completing the relevant level practical qualification test including those required for lower levels. For example, a welder experienced in fillet and plate welding but wanting to enter the practical training programme at pipe level would be asked to pass the fillet and plate practical test before being accepted for practical training at pipe level. A welder fully competent in fillet, plate and pipe welding would undertake the practical test for all three levels and would then undertake only the relevant theory components. It is important that at each level there is an associated level of theory, plus there may be process specific and material specific theory modules which are applicable.
To obtain the IW diploma the welder is required to pass both the theory and practical level examinations and tests. Example: If a welder requires the International Pipe Welder qualification (all positions) for TIG welding, the theory modules and examinations (A, B, C & ST – 9 days theory in total) would need to be completed and the 5 practical qualification tests (Fillet, Plate & Pipe) as detailed opposite.
Guidance can be given to welders on an individual basis as each may differ. Individual training programmes can be specified after assessment.
Upon completion of the course, trainees will be able to produce fillet, plate and pipe welds with the chosen welding processes and the theory associated with the relevant level of welding.
The graduating welder will be awarded an IIW Diploma plus a Welder Performance Qualification (WPQ) as per International Standards.
Email : prac.weld@saiw.co.za