Phil Santilhano Award Level 1 – Tsiliso Litali
A BEACON OF EXCELLENCE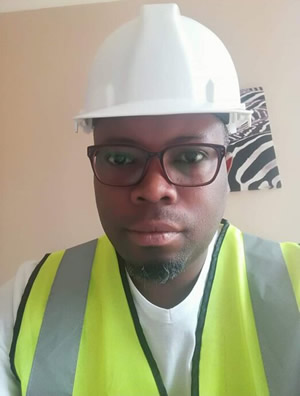 The South African Institute of Welding (SAIW) Annual Awards ceremony celebrates the brightest stars in the field of welding and non-destructive testing (NDT), including Tsiliso Litali, who has walked away with the prestigious 2023 Phil Santilhano Memorial Award for Best Level 1 Welding Inspector and Coordinator Student.
A childhood curiosity realized
Tsiliso's journey towards a career in welding was sparked by an innate curiosity that began when he was a child. He had a fascination with the massive and intricate structures he encountered throughout his formative years. He constantly questioned how these colossal structures were not only constructed but also stayed upright, ensuring the safety of the people who utilised them. As he grew older, his curiosity evolved into a burning passion for the field, eventually leading to a career dedicated to providing solutions and maintaining structural integrity.

A master of innovation
Tsiliso's path to recognition was paved with groundbreaking achievements. At the heart of his triumph is the development of an innovative non-destructive testing (NDT) technique. In Tsiliso's words, "This innovative approach is designed to enhance the detection and characterization of defects in welded structures, a vital element in ensuring the structural integrity of various projects."
The technique involves leveraging advanced technologies such as phased array ultrasonics, digital radiography, and thermography. These state-of-the-art methods are nothing short of a game-changer in the industry, significantly improving the quality and reliability of weld inspections.
Tsiliso explains; "'My work has been instrumental in minimising the risk of structural failures, a crucial aspect of overall health and safety. Additionally, the application of these technologies has the added benefit of saving both time and resources, expediting project completion to a remarkable degree."
Overcoming challenges with unwavering determination
Winning the Phil Santilhano Memorial Award is a testament to Tsiliso's dedication and resilience, which have helped him overcome both professional and personal challenges. He admits that one of the most common hurdles he has encountered is dealing with non-committed team members. This challenge has resulted in project delays and compliance issues, two common stressors in the field.
Tsiliso's solution is simple yet effective: unwavering motivation. He emphasises the importance of consistently motivating employees to give their utmost commitment to the team's goals. His story serves as an inspiring example of the significance of leadership and teamwork in navigating the complex and demanding landscape of welding and NDT.
The power of collaboration and innovation
His work has also been enriched by collaborating with other inspectors, an experience he finds particularly valuable. "Collaborative efforts, working alongside peers to tackle complex projects, not only foster knowledge-sharing but also contribute significantly to the overall success of the endeavours," he says.
Tsiliso's journey also emphasises the importance of embracing new ideas and methodologies and his readiness to work in harmony with colleagues and explore innovative approaches underscores his dedication to driving advancement within the industry.
An inspiration to aspiring professionals
As the 2023 recipient of the Level 1 Phil Santilhano Memorial Award, Tsiliso's innovative work and dedication offer a guiding light for aspiring professionals looking to make their mark in the industry. When asked for advice from future award winners, Tsiliso distilled his wisdom into two simple yet profound principles: "Always look for new challenges; do not be scared of challenges. Hard work always pays. Stay focused at all times."