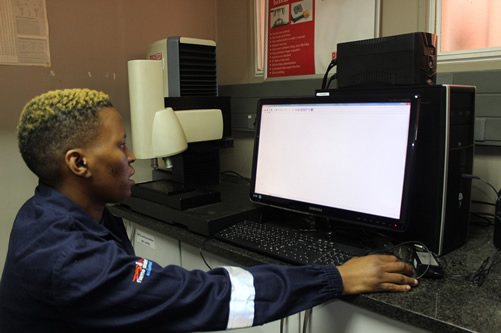 SAIW Laboratory Achieves World-Class 17025 Recertification
The SAIW materials testing laboratory has achieved its South African National Accreditation System (SANAS) 5-year ISO 17025 renewal certification; a formal process of conformity assessment that recognises technical competency and competitiveness in the testing field. The certification underpins the SAIW's expertise in testing welds but also highlights its ability to test materials such as stainless and carbon steel as well as aluminium and copper.
Commenting on behalf of the technical services team Senior Lab Technician Kegomoditswe Letlole says; "SANAS accreditation is not easy to achieve, especially as the regulations have changed and evolved over the years. We are very proud of our team effort in achieving these latest standards. This certification also broadens our ability to service a wider selection of clients and ensures standardisation of quality levels at a world-class level of operation. Clients can also be assured that all equipment within our SANAS accredited lab is correctly calibrated and validated to ensure that they give the most accurate results."
Specialised equipment
Other key strengths include its collective expertise and experience and highly specialised materials tests which cover several specialist areas including failure analysis, welding consumable evaluation, weld procedure qualification, welder qualification, post-weld heat treatment and positive material identification. It can also test any ferrous and non-ferrous material.
A real-world, example of the speedy benefits of this type of service is weld traverse hardness testing. Letlole explains; "Whereas this type of testing may take a day to complete in other facilities, in our lab it takes less than an hour, enabled by our semi-automated Micro Vickers Hardness testing machine. Other high tech equipment in the lab includes a spectrometer, tensile testing machine, an impact testing machine and a metallurgical microscope," she adds.
The SAIW's material testing arm also means the SAIW can offer in-house ongoing evaluation and testing of welds to the SAIW's welding students by qualified metallurgists and welding specialists. Incoming students, therefore, gain access to ongoing weld testing and feedback that allows them to make immediate corrections as they progress in their training. The lab can also offer this same service to other training institutions.
Best of both worlds
Bolstering the holistic approach to the technical services that the SAIW offers; its external consulting service at a client's company or project site forms the perfect complement to its internal lab capabilities allowing clients to draw on the expertise of both.
The SAIW Lab works hand in hand with a technical consulting team that aims to assist the clients in the field, with understanding how high-quality welding is achieved and how to apply the results of lab testing to achieve the best results. The team consults with independent clients in the structural, mechanical and civils industries including boilermakers, fabricators, and manufacturers. Consulting work has also taken place in the power and petroleum industry for larger entities such as Sasol, Transnet, and Eskom as well as within mine maintenance projects
Technical Services Consultant Confidence Lekoane comments; "Welding requires the best result, and the best result is a correct weld since there are expensive and sometimes fatal consequences if welding standards are not met. Our team ensures the correct standards are maintained which saves our clients time and money by enhancing their business offering so they become more competitive within the industry and more likely to win tenders."
Looking ahead, Lekoane says; "Despite the onslaught of the COVID-19 pandemic and resulting financial fallout, the lab has a renewed purpose to help our clients recover from the financial fallout of the past 12 months. After all, in the current highly competitive business environment information is power and quality counts more than ever as a winning differentiator".