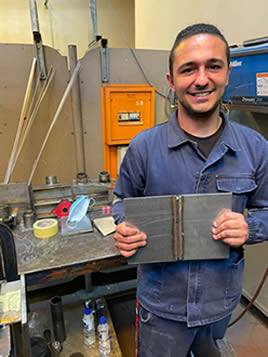 Student Profile : SAIW ignites Keanu Costa's Career
The Southern African Institute of Welding (SAIW) is a key stepping stone for students seeking to excel in a career in welding. At a macro level, this type of training is vital to the sustainability and growth of our economy while at a personal level, the SAIW gives its students access to an international welding qualification recognised in 58 countries.
Someone who seized this opportunity is Keanu Costa who jumped at the chance to study at the SAIW. He completed his TIG (141) process fillet, butt plate and butt pipe in just three months and will continue with the IIW training program for carbon, stainless steel and aluminium.
SAIW Lecturer and Welding Instructor Valencia Hendriks says that Keanu has progressed incredibly well. "I am impressed by how well he has done so far in his course. It is clear he is passionate about his work, delivers with excellence and has a solid work ethic".
The SAIW has given Keanu the ability to follow a focused career path as it offers an international welding IIW qualification, with students gaining access to career opportunities across the globe. The SAIW is also well-known for its mentorship of students and plays a pivotal role in guidance on future careers for its students.
Keanu says that he is thoroughly enjoying his course and says; "I am being introduced to a whole new world of welding. It's very exciting and rewarding and I am learning so much". He sees the return on the current investment he is making, as the vast and varied benefits of becoming a welder namely:
| | |
| --- | --- |
| | Growing Demand – There is a shortage of properly trained welding professionals who are vital to the rebuilding of our economy. |
| | No Fancy Paperwork – As a practical profession, students can start working and earning a living after completing a practical welding course while continuing to upskill themselves through future SAIW courses |
| | Great Pay – Who can resist the opportunity of a guaranteed good salary? Welders are in demand and companies are more than happy to pay for specialised welding skills on key projects requiring this level of expertise |
| | Hands-On – Welding is a great choice if you like variety and hands-on projects that can lead you down many paths. Imagine being able to be part of general construction, manufacturing, shipping or the automotive and aerospace industries? The options are endless. |
| | Women At The Helm – Women have become a key asset in the industry and proven themselves to excel in this profession. |
| | Fulfilling Career – Be part of a project from the initial first steps to the final product and take pride in the extraordinary structures and products that you can play a key part in creating. |
For more information on the courses that the SAIW offers please email info@saiw.co.za.