SANAS Accreditation confirms SAIW Lab's Technical Expertise
SAIW provides a world-renowned materials testing lab and expert consulting services
Lab saves clients time and money and ensures they become more competitive and more likely to win new business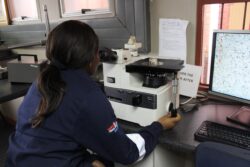 Not only has the SAIW in-house Laboratory consistently maintained its South African National Accreditation System (SANAS) 5-year ISO 17025 renewal certification. The SANAS accreditation is a formal process of conformity assessment that recognises technical competency and competitiveness in the testing field. This underpins the SAIW's expertise in testing welds but also highlights its ability to evaluate a wide range of materials such as stainless and carbon steel as well as aluminium and copper.
Technical services Senior Lab Technician Kegomoditswe Letlole says, "Welding requires the best result, and the best result is a sound weld since there are expensive and sometimes fatal consequences if welding standards are not met. Our team ensures the correct standards are maintained which saves our clients time and money by enhancing their business offering so they become more competitive within the industry and more likely to win new business."
Comprehensive, inter-disciplinary services
The SAIW Materials Testing Laboratory conducts both non-destructive and destructive testing. The facility is fully equipped to perform mechanical and non-destructive testing of weld samples, either welded in the welding school or to assess welder performance or welding procedure qualification. The material testing laboratory supports the consulting services offered by SAIW.
Highly specialised technology and experienced staff accelerates performance with state-of-the-art laboratories that test the quality of materials, solve performance issues, investigate failure concerns and support product development with a global reach.
Services includes welding procedure and welder performance qualification, failure analysis/weld analysis, troubleshooting welding problems, implementation of new welding technologies in the industry, welding consumable testing, post-weld heat treatment simulations and technical information and support.
Support and solutions
The SAIW Lab works hand in hand with a technical consulting team that aims to assist the clients in the field, by understanding how good-quality welding is achieved and how to apply the results of lab testing to achieve the best results. The team consults with independent clients in the structural, mechanical and civils industries including boilermakers, fabricators, and manufacturers. Consulting work has also taken place in the contractors or subcontractors of power and petroleum industry as well as within mining maintenance projects.
For the welders of tomorrow
Testing and inspection is a critical component of the design and manufacturing process and students can benefit from the lab as they can put theory learnt into action. The main advantage of materials testing is that it provides an understanding of how the product will behave when put under certain stresses/loads. Welders are known for their ability to weld in many different metals, but the best welders are also known for their ability to weld in almost any object.
SAIW Technical Services Consultant Confidence Lekoane adds; "Welding is not only a trade but an art form. It is one of the most important things you can learn in life. Our material testing arm means the SAIW can offer in-house ongoing evaluation and testing of welds to the SAIW welding students by qualified metallurgists and welding specialists."
HAPPY CLIENTS…
VINCENT SHOKANE AT VOESTALPINE BÖHLER WELDING
One of the requirements required by our company's quality policy is to assess our products with a third-party laboratory that is SANAS approved. SAIW met these requirements. Sometimes we need to verify our results to compare and maintain the quality of our work. As a result, the SAIW serves this purpose well. We are incredibly pleased with the competence and conduct of the staff at the SAIW. Moreover, the professionalism of their report was splendid. We are very grateful for the service received and we hope to continue working with SAIW.


MOTLATSI SEKHESA AT MS FABRICATION

I lead a team of two engineers and 11 artisans at MS Fabrications and Engineering based in Maseru, Lesotho. The objective of the organization is to get accreditation of ISO 3834 within the first half of the year. The need for accreditation was influenced by the fact that most jobs we felt we can do, required us to provide a quality management system used in the company. As a result, we contacted the SAIW and connected with Confidence Lekoane. After several meetings with her, we invited her to our organization to do a gap analysis. We received the gap analysis report and believe it has provided us with a much-needed understanding for the journey ahead, as we prepare to implement the recommendations of the report. We are currently happy with the service from SAIW and their administration staff has provided clear information on time.
ZENITH LAKEY AT ARC 1
We required the SAIW to perform testing on certain welding electrodes and filler rods from time to time. I was aware of the SAIW performing this test and attended their yearly awards evening. The Tig Wire needed to be tested to Schedule K, with impacts at -196˚C and also long and short cycles. Their quotes are reasonable, their staff is extremely helpful and friendly and I enjoy working with them.