SAIW 2023 AWARDS GALA DINNER SET TO CHAMPION EXCELLENCE AND INDUSTRY GROWTH
The Southern African Institute of Welding (SAIW) is proud to announce its 2023 Awards Gala Dinner that will take place on the 19 October 2023 at the Indaba Hotel in Fourways, Johannesburg.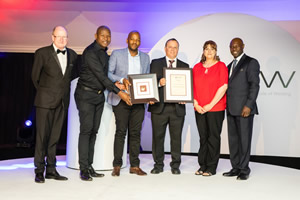 This prestigious event has already secured sponsorship from industry leaders Lincoln Electric and Esab and serves as a vital platform for acknowledging and honouring remarkable achievements, innovations and contributions within the welding and fabrication sectors.
SAIW Executive Director John Tarboton says; "This recognition not only brings prestige and validation to the award recipients but also serves as a powerful motivator for them to continue their exceptional work. Overall, the awards inspire professionals and organisations to push boundaries, strive for excellence and contribute to our industry's growth and innovation."
He adds that one of the key benefits of attending this event is the opportunity it offers for networking and collaboration as it gathers industry professionals, leaders, and experts in one place. This creates a conducive environment for forging valuable connections and potential collaborations.
In addition, the awards dinner will serve as a platform for knowledge sharing and promotion of best practices. This is because the awards ceremony typically showcases success stories and industry-leading practices, inspiring others to improve their approaches. This sharing of knowledge ultimately contributes to advancements within the industry.
The awards to be presented at this year's awards dinner are:
SAIW Gold Medal Award
SAIW Fellow Member Award
Honorary Life Membership Award
SAIW Presidents' Award for best NDT student
Phil Santilhano Memorial Award for best inspector and coordinator student
Best IIW Manufacturing Certification Scheme ISO 3834 Company Award
Best Welding Co-Ordinator Award
Tarboton also points out that for companies and organisations, winning awards or even being nominated can have a profound impact on employee morale and motivation. "It demonstrates that their efforts are valued and recognised externally, fostering a sense of pride and loyalty and this boost often leads to increased productivity and innovation."
From a commercial point of view, it also makes perfect sense to sponsor the SAIW Annual Awards Gala Dinner as it offers numerous advantages for companies.
Tarboton explains, "It provides prominent brand visibility, positioning sponsors as thought leaders and key players within the industry and sponsors also gain valuable networking opportunities and the chance to engage with industry leaders, decision-makers, and potential clients." To this end, we'd like to thank our upfront sponsors Lincoln Electric and Esab whose incredible support will help make this year's event the best yet.
The SAIW therefore invites all other industry stakeholders, companies, and individuals to join in this momentous occasion and be part of an evening that honours excellence and drives our industry forward.

For more information on how to enter, sponsorship opportunities and ticket reservations, please contact: dimitra.kreouzi@saiw.co.za