STORIES OF SUCCESS – HALL OF FAME
HALL OF FAME – ANDRE FOUCHE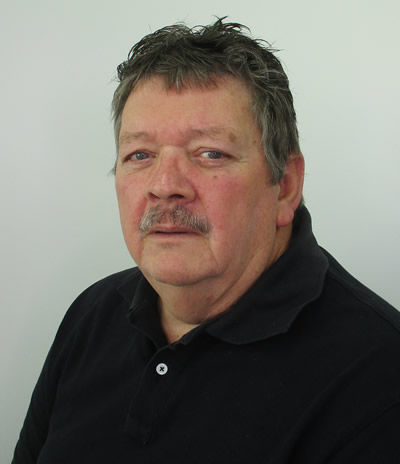 South African NDT stalwart and widely recognised industry guru Andre Fouche De-Tect Unit Inspection Technical Manager & Company Level III is one of the most experienced pioneers in our industry and a highly valued associate of the SAIW. In this profile, we talk to Andre about his journey to success and gain some rich insight into his wealth of experience and wisdom…
Q. Please provide some background on where you come from, your school and tertiary education and where you first started working?
A. I was born in Rustenburg. My parents were passing through from a diamond exploration contract my father was working on and returning to Johannesburg for the weekend when my mother went into labour. The funny thing is, I did not return to Rustenburg until around 50 years later, not for work but on a camping outing!
After losing my father when I was four years old, we moved to my grandmother's home in Kensington, Johannesburg for a number of years, where I started school at Jeppe Prep until my Mother remarried. My stepfather and mother purchased a house in Kempton Park, which resulted in me attending Kempton Park Primary School as well as Kempton Park High School where I completed my Matric.
Being the period that it was, I was called up to the Army for national service, which was the last of the 12 month intakes. I decided that I fancied the Airforce and subsequently applied for the post of a Trainee Aircraft Instrument technician. I had the pleasure of working on Mirage F1 AZ long-range bombers – quite a unique experience at the time.
After leaving the airforce, I was tempted into the world of NDT by a friend's sister who was the first female radiographer who entered the industrial sector and by his father who worked as a welding Inspector. And so the journey began…
Q. How has your career evolved up to you starting at the IIW including you starting your own business?
A. I joined Corner House Engineering Laboratories (CHEL) at the very start of the Sasol 2 construction phase, as a trainee, earning some four times my Airforce salary. I started my NDT career on the same day as an old colleague, Frank Manelli, who has become a legend in the NDT fraternity. Frank is a few months older than me, so he is probably the oldest NDT technician around to this day.
We were fortunate to be trained by NDT gurus, who in later years, became well entrenched in the nuclear world through the Koeberg project; namely: Dave Croft, Richard Pendrill and Paul Brinkhurst.
At that time, all training was conducted in-house through the SNT system. We were, however, privileged to attend courses in Radiography and Ultrasonics at the Pretoria College for Advanced Technical Education. The RT and UT courses were physics-driven, nuclear focused and largely theoretical, which gave us all huge insight into the world of NDT, but no real training in the NDT field – this was all administered by our Level 3 gurus.
After leaving Sasol 2, I transferred to Durban working under Des O'Connor. We learnt everything under Des and worked incredibly long hours in engineering, pipelines, pressure vessels, the sugar industry, petrochemical and chemical plants and shipping. Each day the work varied, so we became acquainted in all industry types.
In those days, welding inspectors were not a requirement, so we did WPS and WPQ tests and assisted with pressure vessel design calculations etc – very interesting times.
Upon returning to Johannesburg, I was promoted to NDT call-out management at the CHEL Reef division, where we had 18 technicians, operating in a call-out capacity and servicing Industry at large. We certainly had some colourful characters at the time, but everyone a legend in their own right, always willing to work like Trojans and delivering some really good quality NDT.
After a reasonable period, I was asked to start up the branch in Richards Bay (Zululand) by Des. This was a huge area of expansion at the time and included RBM, RBCT, Mondi and various sugar mill construction sites. During a subsequent Mondi build, we experienced flooding brought on by Cyclone Demoina in 1984. When water is all around and you live close to the shoreline, there isn't much elevation, Needless to say, we survived but there was a lot of devastation to both the Mondi Build as well as the general infrastructure.
After a brief foray into photography, I subsequently moved back to Johannesburg for a work offer. Around this time, the SAIW was becoming a force to be reckoned with under Chris Smallbone, and the drive to introduce ISO 9712 based training and education was underway, given that our industry had become disillusioned with the SNT-TC-1A certification scheme.
We were subjected to training as welding inspectors at the old British Engine premises in Spartan, Kempton Park, which eventually transferred to classroom training at CHEL house in Bedfordview. It was here that I learned and appreciated the capabilities and dynamism of Chris Smallbone as an educator. He was streets ahead of the other lecturers.
Around this time, TÜV Rhineland bought over the CHEL consortium. The agreement was that the inspection division would fall directly under the control of the TÜV management system, and the NDT division would fall under my responsibility. The confidence in my capabilities as exercised by the New MD under which I worked, Dr Colin Alvey was hugely appreciated.
Q. What are some of the key work experiences or projects to date, that you have worked on that have challenged you but also helped to shape your skills, experience and career advancement?
A. The TÜV merger introduced me to the field of Business Management, an area I had no prior experience in. TÜV allowed me to enrol in Damelin's business management course, which turned out to be a condensed MBA in business management.
We also managed to pass the SAQCC Examinations, bypassing the prevalent courses at the time due to our PCATE Education, saving the company substantial course fees. Our ISO 9712 certification was driven by the Mossel Bay refinery and offshore project. We obtained various UT, MT, and PT certifications, including nodes, forgings, and castings tickets, using analogue machines as digital flaw detectors hadn't emerged yet.
Undergoing Eskom Approvals, meant demonstrating our capabilities practically, and gaining legal acceptance for Eskom sites.
After some years with TÜV, I joined Unit Inspection during the Mossgas project, expanding the NDT division rapidly and venturing into the Middle East, managing inspection scopes for outages.
My son Shaun joined as a trainee and excelled in high-tech techniques, eventually becoming a partner in Sonartech. He managed the business in South Africa while I handled Middle East ventures.
We sold the company to Stanley Inspection to combine high-tech capabilities and expand the Stanley model. However, socio and corporate issues led to Stanley's withdrawal from the country and the company returned to the De-Tect Unit Inspection name. Shaun and Yusuf Patel subsequently initiated a management buyout of the De-Tect brand from Stanley.
I now serve on the SAIW Certification committee and hold the vice chairmanship of the South African ASNT Chapter. My journey continues, with more to come in the future.
Q. Which specific SAIW courses have you completed? 
A. I was required to do the SAQCC / SAIW Level III RT certification, for the company as one of our Level III's who was looking after the RT side left and reduced us to a little bit of a rudderless RT section. Also required in the near future is the SAIW VT certification. This has become an industry requirement, particularly for Power Generation.
We are awaiting confirmation from the SAIW for course dates and examination dates. In the meantime I will probably attempt the ASNT examination which is virtual so will be somewhat more readily available. There is a gross shortage of Level III VT techs available in SA.
Q. What are some of the biggest challenges that you have faced during your training so far e.g. unfamiliar processes and how have you overcome these?
A. We did the ET 1 course under the SAIW's Personnel Qualification and Certification Manager Harold Jansen. Of the eight personnel, only one managed to pass the theory – a testament to the higher scientific mind of Mr Jansen – we need to bring him back to earth! It was very challenging, and I believe on the day seven out of eight underestimated the usage of formulas and layers of seven deep calculations, where seven or so answers had to be derived before a single outcome could be realised. Still, have to re-attempt this – but the ego is certainly mangled.
Q: What would you say are the biggest work and life lessons you have learnt since then?
A. Be humble in your approach to work and have ethics about what you do, particularly in the NDT fraternity and field – people's lives may depend on the integrity that you exude.
Q. How do you hope to take your career to even greater heights once you have achieved your next NDT qualification – what are your plans for the future?
A. To continue doing what I do for as long as I can still do it. Interaction with the younger ones keeps you ticking