Phil Santilhano Award Level 2 – Willem Rossouw
A PASSION FOR EXCELLENCE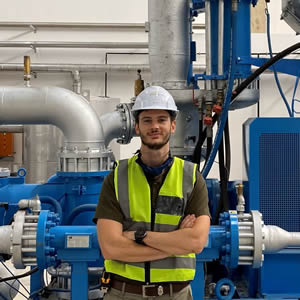 Willem Rossouw has emerged as a trailblazer by clinching the SAIW Phil Santilhano Memorial Award for outstanding achievements in Level 2 welding and NDT. In this exclusive interview, we delve into the remarkable journey of Willem Rossouw, celebrating his exceptional accomplishments, his passion for the field, and his advice for aspiring professionals looking to leave their mark in the world of welding and NDT.
Excellence in Welding and NDT
Willem Rossouw's journey to the Phil Santilhano Memorial Award was marked by his successful completion of the Welding and Fabrication Inspection program at the SAIW's Durban branch at the end of 2020. The program offered a comprehensive education on welding processes, defect identification, industry standards, inspection methodologies, and non-destructive testing techniques. This depth of knowledge formed the cornerstone of Willem's journey to becoming an accomplished inspector and coordinator in welding and NDT.
The significance of his accomplishment is felt far and wide, as welding and NDT are the linchpins of ensuring quality control and appropriate manufacturing methods. For engineers entrusted with the responsibility of designing equipment, these skills are indispensable in crafting products that are not only safe but also competitive in the market. Willem's expertise in welding and NDT has cemented his position as a valuable asset in the world of engineering.
A passion-driven career
Willem's journey into welding and NDT was profoundly influenced by his enduring passion for problem-solving and his commitment to the well-being of individuals and the environment. These guiding principles led him to embark on a career in chemical engineering, a field that required him to design and manufacture thermal waste treatment equipment, heat exchangers, scrubbing systems, and filters.
Over the years, Willem's role expanded to encompass the management of the engineering department, the research and development of innovative products and solutions, and the refinement of existing designs.
This dedication, in turn, underscores the critical importance of understanding manufacturing processes and meticulously planning and controlling quality aspects, particularly in welding and fabrication.
Overcoming Challenges: A Balancing Act
Willem's path to success was not without its share of challenges. He navigated a demanding three-month program that comprised three weeks of intensive in-person classes and one week dedicated to revision and examinations. Simultaneously, he had to maintain his responsibilities in engineering design and management. The coordination of these tasks demanded impeccable time management, astute planning, and effective communication with his team.
Willem expressed his deep gratitude for his lecturer, George Walker, whose competence and enthusiasm were pivotal to his success. The guidance and knowledge imparted by Mr. Walker enhanced Willem's learning experience and fuelled his drive for excellence.
Innovation and collaboration
In the ever-evolving field of welding and NDT, keeping abreast of the latest advancements is vital. Willem's approach to staying ahead involved careful planning and an unwavering commitment to his studies. He dedicated weekends and evenings to immerse himself in the course material, which attests to his unyielding commitment to excellence.
Words of wisdom for aspiring professionals
Willem's advice to aspiring professionals is both insightful and inspirational. He urges individuals to recognise the privilege of expanding their knowledge and to maximize every learning opportunity that comes their way. He emphasizes that genuine interest in one's work is the driving force behind continuous improvement and innovation. Willem also underscores the value of seeking out a mentor, as learning from their experiences and insights can significantly accelerate one's career.