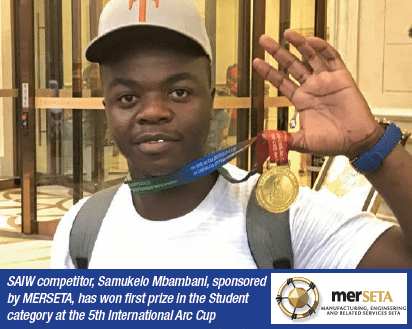 Historic Win for Samukelo Mbambani in China … Team SA sponsored by merSETA
08 April 2017
Osbourne Samukelo Mbambani has won first prize in the Student category at the 5th International Arc Cup Welding Competition in Shanghai, China during the week of 24 – 28 June 2017. In total 16 countries participated in the event with Russia alone entering 26 competitors in all categories!
"This is an absolutely amazing result," says Etienne Nell, SAIW business development manager, S.A. team leader in China and Senior Category judge.
"Samukelo simply blew everyone away with his attitude, skill and application. Given the facts that: he had never even been on an overseas trip before; that he competed against dozens of the best young welders in the world in a strange country; and that the marking was amongst the strictest of any world competition, what he achieved was nothing short of miraculous," Nell says.
He adds that Samukelo's relaxed, humorous and easy-going approach was matched with an incredible discipline and willingness to give of his best. "He was the perfect competitor and was a credit to himself, the SAIW and South Africa."
There were four categories of welding in the competition:
• Student Welder (max. age 22) – here the competitor firstly welds a plate, pipe and fillet weld using a specific process – GMAW in the case of Samukelo. Then they enter the Finished Welding category where they assemble and weld, in all positions, a carbon steel project with all four processes i.e. GTAW, GMAW, SMAW and FCAW. Samukelo participated in both categories.
• Senior Welder (max. age 35) – process as per the Student Welder above. Houston Isaacs the multi-winning welder in the various local SAIW welding competitions represented South Africa in this category. While Jaco van Deventer achieved second place in this category last year, Houston was unable to attain his usual winning standards this year.
• Robotic Welding (no entry from S.A.)
• Technology/Theory (no entry from S.A.)
Nell says that the story of Samukelo getting to China is in itself quite bizarre. "He wasn't meant to go at all. SAIW Welding Challenge second placed Angel Mathebula was originally supposed to participate in the Student Category but had to withdraw for personal reasons.
So, we decided to take a chance on Samukelo who was placed third in the WorldSkills S.A. Nationals in Durban earlier this year. The rest is history … in the truest sense of the word," says Nell. Samukelo was over the moon with his achievement. "China and the Arc Cup was an incredible experience. I never expected to win but it goes to show that one can only do one's best and hope that it's enough. This time it was! I must thank Etienne, the sponsors and the whole team for their support," he said.
The ARC Cup is the Chinese version of the WorldSkills competition and is highly regarded by the welding industry globally including the International Institute of Welding (IIW). The South Africa Welding Team was sponsored by the Merseta. The team consisted of four people – Etienne Nell, team leader and Senior Category Judge; Valencia Hendriks coach and Junior Judge; and competitors Houston Isaacs and Samukelo Mbambani.