Student Profile : Justin van Wyk
A World Class Welder's Journey To Success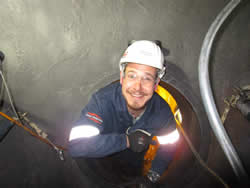 At first glance, Justin van Wyk seems to be like any other committed SAIW student who wants to succeed in their chosen field. But unlike many others, it is both passion and humility that have shaped and formed him into the top achiever that he is today.
At the tender age of 15, Justin had his first experience with welding, inspired by the Ironman monument in his hometown of Krugersdorp. "Like a moth to a flame", he says, "I found a passion for the arc".
He attributes his almost 15 year long relationship with the SAIW to his parents who discovered the school in Fordsburg. His first step was a short course in Manual Metal Arc Welding at the SAIW, which he undertook during the school holidays. This earned him recognition in the well-known trade publication Engineering News as the youngest qualified welder and paved the path to his success. He also went on to compete in a young welders competition that further enhanced his skill in fabrication.
The SAIW has been an integral part of Justin's journey, both from a human and an educational perspective. According to Justin, the SAIW team became more like his family, forming and shaping his values while guiding his career path and educating him practically.
The staff inspired him to want to achieve his best, and, while completing his IIW TIG welding diploma at the SAIW, he was offered a position at the Hitachi Power plant at Medupi. This work experience added incredible value through on the job training that enhanced his practical and theoretical knowledge.
The role that the SAIW has played in Justin's achievements has been central to his accomplishments. To date, he has completed his IIW MMA fillet, plate and pipe, IIW TIG fillet, plate and pipe as well as the IWS Inspection level 1 and 2 and, most recently, the IWT. Justin believes that continuous learning is the key to success, and, as a result, will be completing his Non-Destructive Testing with the SAIW. His initial plan was to have completed the NDT course immediately after welding, but considered the employment opportunity instead for some on the job training.
There is no doubt that there is a shortage of skilled welders in the country, and this, coupled with a deep passion for the arc is the driving force for Justin's success. "I don't know where I would have been were it not for the SAIW", said Justin. The immense value that he has gained from all the courses that he has completed through the SAIW has led to him being promoted from being the first welder for Hitachi Power Africa to foreman and supervisor. It was this position that exposed him to the intricate art of mirror welding that further deepened his respect for the welding profession. He has also worked at Sasol Secunda and on the Kusile Power Station. In addition to this, he has been employed as a welding coordinator for IDS.
There have been many learning curves throughout the years for Justin. He cites dignity, respect and humility as the most profound values that he has acquired over the years, and it all began with his reception at the SAIW, where he is more than just a number. From a practical perspective, the experience gained from working on some of the biggest projects in the country is immeasurable and gave him a sense of giving something back. He has also learned not to underestimate the value of the welding industry and to appreciate the value that it adds to the world at large.
Justin's incredible attitude towards life can be summed up in the words of SAIW Business Development Manager Etienne Nell who says "He is a remarkable young man. As a kid, he just struck me as someone that wanted to weld, and look at him now." Justin has gained skills in mechanical strength, metallurgical behaviour, weld soundness, health and safety as well as interpersonal skills through both the SAIW and his work experience.
He has his mind-set on greatness, and looks forward to our country benefiting from his expertise and knowledge. Once he is done with his globally recognized NDT at the SAIW, he sees a bright future in IPE. Through the SAIW, he has been introduced to an incredibly exciting field where the sky's the limit.
"You are only as good as your last weld" – Justin van Wyk