STAFF PROFILE Hall of Fame: Herman Potgieter – A Journey of Excellence in the Welding Industry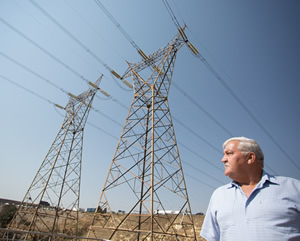 Herman Potgieter, who has just retired from the SAIW, is a renowned figure in the welding industry, who has carved a distinguished career path culminating in his tenure as the CEO of SAIW Certification. With a rich background in metallurgy and engineering, Potgieter's journey has been a testament to his unwavering commitment to the field.
Potgieter's passion for welding began in 1993 after the completion of his studies at engineering and technology schools in the mid-1980s. He was also part of the first group to go through the rigorous SAIW modules and courses, and quickly established himself as a leader in the industry. His early association with the SAIW also laid the foundation for his remarkable career trajectory.
Throughout his career, Potgieter has been at the forefront of research and development, collaborating with numerous companies and mines in the steel-making industry. His expertise and dedication to his work led to his employment with Afrox in 2003. Under the guidance of the late Nic Bothma, a prominent welding engineer, Potgieter served gained experience in welding technical support and later as a product manager for hardfacing products.
Power plant prowess
In 2008, Potgieter's talents were recognised once again when he was offered the position of Technical Manager at Genrec under the Murray and Roberts Group. His role involved overseeing the welding and related activities of Eskom's Medupi and Kusile power plants. Working at the power utility's Wadeville Workshops, Potgieter was tasked with managing complex operations and coordinating with international companies. This experience marked a significant turning point in his career, expanding his responsibilities and exposing him to new challenges in construction.
However, it was in 2012 when Potgieter's career took an exciting turn when former SAIW Executive Director Jim Guild offered him the position of Company Certification Manager at SAIW. Having been involved in welding certification since the 1980s, he was well-versed in the intricacies of the field and the SAIW opportunity allowed Potgieter to leverage his vast knowledge and experience in the welding industry to improve and streamline certification processes.
Shortly after joining SAIW, Potgieter's dedication and competence were once again recognised, and he was appointed as the CEO of SAIW Certification. In that role, he oversaw the company's certification processes, ensuring adherence to industry standards and promoting excellence in the welding profession.
Elevating the recognition of welders
Overall, Potgieter's career has been marked by significant achievements and challenges. One of his key objectives has been to elevate the status of welders in the manufacturing chain. By emphasizing the importance of their role, he has played a crucial part in transforming the perception of welding from a low-level craft to a skilled and vital profession. Through initiatives like the Artisan Test Centre and collaboration with government bodies, Potgieter has sought to improve testing procedures and highlight the significance of welders in the industry.
Reflecting on his journey, Potgieter acknowledges the ever-evolving nature of the welding profession. He has witnessed a positive shift in the appreciation of various welding careers and the recognition of welders as essential contributors to the manufacturing process. While challenges remain, such as uplifting artisans and fostering career progression, Potgieter remains optimistic about the future of the industry.
A significant transformation
Potgieter says that under current SAIW Executive Director John Tarboton the SAIW has undergone significant transformation. "The institute has evolved into a renowned establishment, gaining recognition both locally and internationally. With a shift towards decentralised management and a focus on fostering growth and innovation, the SAIW has positioned itself as a leading institution in welding education and certification," says Potgieter.
Potgieter's tenure at SAIW has coincided with challenging times, including the COVID-19 pandemic and subsequent industry slowdown. However, his steadfast commitment and ability to adapt have enabled him to help steer the organisation through these difficulties. He also remains unwavering in his belief in the importance of welding as a vital profession and will continue to be involved in championing this economically vital skill in the years to come.