SAIW training moulds a passion for welding into future global success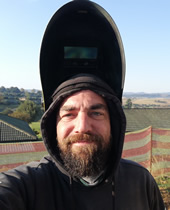 Nick Ashley is a current thriving student at the SAIW who has shown that the SAIW International Institute of Welding (IIW) globally recognised qualification can add value to existing welding skills even amid a very successful welding career.
Ashley was born and raised in Kwazulu-Natal and spent most of his primary school days in Queensburgh near Durban. After completing his schooling, he had a strong interest in metalwork and welding, which led him to search for a job in the industry.
He was subsequently able to secure a job at Maxe Bullbars, where he started working in the polishing bay, learning how to treat, prep, and polish stainless steel.
"During my lunch breaks, I would practice welding on a machine that was set up for me by one of the in-house welders which helped boost my skill level". He spent a few years at Maxe Bullbars before moving on to work for Omega stainless steel, where he specialised in the marine and boating industry.
A decade of learning
Ashley says; "For nearly a decade, I designed, fabricated, and welded all kinds of railings, roll bars, T-tops, accessories, and everything in between for ski boats, yachts, and leisure crafts. Working on these projects taught me to be creative, precise, and attentive."
After a series of major life events including the birth of his son, Nick decided to start his own metalworks business, specialising in custom stainless steel creations.
He diversified and took on more industrial work, including several significant projects, such as a 40 000-litre stainless steel chill water tank for Tetra Pak and PolyOak packaging, and a large steel piping exhaust/extractor system for a line of kilns built for Eston Brick and Tile.
When he wasn't working on these major projects, he kept himself busy with various smaller projects that came his way; from balustrading to staircases, custom motor car and bike exhaust systems, to braais and tables. He also custom-built projects for many customers!
An internationally recognised qualification
After trying his hand at almost everything he could, Ashley realised it was time to obtain an official internationally recognised qualification. He conducted research and found that SAIW was by far the best place to start. He communicated with Student Advisor Rebecca Motloung and SAIW Practical Welding School Supervisor Willie Williams and was advised on the best course of action to obtain his IIW International TIG welding certificate.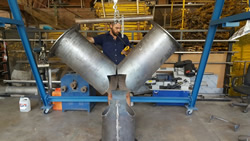 According to Ashley, the course has been extremely interesting and educational, and the facility is top-tier. Every morning, he travels 35kms to the academy to start at 8am.
The course he is doing has three modules: Fillet, Plate, and Pipe. Each module has a series of welding positions that need to be mastered. Once he progresses through the module, he submits his test pieces, which are visually checked and then tested to see if they passed. Currently, he is in the last stages of his Plate welding module.
SAIW Practical Welding School Supervisor, Willie Williams, says that Nick is a patient, open learner who has taken only three weeks to complete modules that would typically take 12 weeks. Williams has taught many students who have come from a welding background, and Nick has been thriving at the academy because of his work experience.
Williams explains; "After he successfully completes all three modules, he will move on to the theory part of the course, which is a two-week program that includes health and safety. The techniques and tips he's learning from the instructors at SAIW are improving his welding skills, and the industry standards taught by the team will prepare him for any challenges that will come his way in the future."