A Passion for the Craft of Welding wins the Day!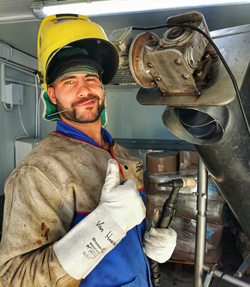 The winner of our R60 000 regional Level 1 Inspector Course Izak Van Heerden says he never imagined that he could win a bursary. "I have been neglected and rejected in my life, especially in school and was told I would be a nobody." Despite this, Izak has forged a successful start to his career in welding and with the SAIW bursary opportunity, is now looking forward to overseeing large welding projects and possibly going into teaching one day, to "help young welders believe in themselves and become somebody"…
Q. How did you hear about the SAIW regional bursary and why is it something you were interested in?
A. I heard about the bursary through a friend, who saw the bursary giveaway on Facebook, took a screenshot, and sent it to me. It has always been my dream to be a welding inspector, but I wanted to be a welding inspector with respect. I have been in the welding industry for eight years, but I never had the money for the welding inspector course so when I heard about the bursary, I accepted it with both hands.
Q. Please give a brief outline of your education and work experience thus far?
A. I am not a very highly qualified person, but I am a qualified welder. I got my red seal a couple of months ago. I also have Matric and have done my N1. I grew up in my Dad's workshop. He had a tool room and was one of the country's finest air force tool makers. I've been working for 14 years in the workshop but was fortunate enough to work in the industry until very recently when I decided to focus on my studies. I enjoy everything to do with manufacturing and steel (mainly) components and the welding side of things.
Q. Where do you live and what are you currently doing?
A. I stay in Brackenfell, but I am originally from the Northern Cape. A month ago I resigned from my job as I did not have enough time for my studies. I was given half a Friday every week, but I needed to be in College full time. I had a lot of responsibilities where I was working, which is why they required me to be there constantly.
Q. What is the best life lesson someone has ever given you and how do you apply it to your professional and/or personal life?
A. I have a few life lessons that my dad taught me. First "When work is done, good rest follows", "Do something completely or don't do it at all" and lastly one thing that I learned from my previous employment, where I oversaw 42-45 people, some older than me, is that communication is key. I believe the world is currently the way it is because of a lack of communication. And to always be professional. In my personal opinion, communication and professionalism is the key to success. This is something I have learned the hard way and applied to my daily life.
Q. What is one of the biggest challenges personal or professional you have ever faced and how did you overcome them?
A. One of the biggest challenges that I have ever faced and still face every day, is staying true in a non-true world, standing, believing, and spreading the truth. It is the most difficult thing in life because people think you are crazy for speaking the truth but at the end of the day, you are doing it to help them and not to benefit yourself. What I find difficult is that people tend to follow the herd. Whether it's right or wrong; people have this fear of being left out. I overcame this by knowing who I am. I am a very spiritual person and stay sane by staying true to myself and my beliefs.
Q. What do you hope to achieve out of this bursary i.e. what are your career goals once you have completed your bursary training?
A. Never in my life did I ever think I will be where I am today. I never thought that I would be able to qualify for any bursary. I have been neglected and rejected in my life, especially in school. I was told I would be a nobody and so on. So, for me to achieve this, is a big thing! My main goal is to become a Level 3 Welding Inspector and my prayers are that there will be another bursary for Level 2.
In my career, where I see myself ten years from now would be overseeing big welding jobs or factories and the possibility to teach. I have a big passion for teaching and my dream would be to teach young welders to believe in themselves and become somebody. I would also like to have my own company someday and 'graft' with the boys!