CERTIFICATION OF WELDING AND FABRICATION COMPANIES FOR THE MANAGEMENT OF QUALITY IN ACCORDANCE WITH ISO 3834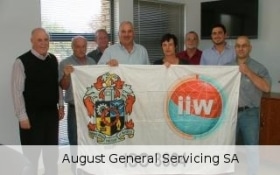 SAIW Certification, the certification division of SAIW, is authorised by the International Institute of Welding (IIW) to operate its Manufacturer Certification Scheme in South Africa. SAIW Certification was the first organisation outside Europe to receive such authorisation.
Locally the scheme, which is suitable for both manufacturing workshop and construction site activities, is known as the SAIW Welding Fabricator Certification Scheme.
GLOBAL RECOGNITION
The SAIW Welding Fabricator Certification Scheme is based on the ISO 3834 standard – Quality requirements for fusion welding of metallic materials. ISO 3834 is regarded as the welding quality requirement benchmark of the 21st century and certified compliance means global recognition of a company's capabilities.
The ISO 3834 standard is a tool for the control of the entire welding process from design to final handover.
REASON FOR INTRODUCING THE SCHEME
The purpose of the scheme is to help local fabricators become more competitive in both the local and global marketplaces.
Having ISO 3834 certification, immediately confirms a fabricator's competency level to end-users, project managers, design houses etc, and also demonstrates that the fabricator's quality capabilities are competitive with similarly accredited companies from abroad.
BENEFITS OF THE ISO 3834 SAIW WELDING FABRICATOR SCHEME
For Certified Fabricators
Verification of your company's compliance with the ISO 3834 standard by this country's highest welding authority, backed by the world's leading welding authority.
Confirmation of your company's welding and fabricating capability and your staff's competence.
Improved client confidence leading to a reduction in external audits.
Increased national and international business potential.
For Purchasing Organisations
For end-users, EPCM organisations, etc, specifying ISO 3834 certification as a requirement for suppliers of welding fabrications ensures:
Expert, independent assessment of suppliers.
In-depth, authoritative evaluation of fabricator capability and overall competence.
Assurance of built-in quality with reduced inspection costs.
HOW DO I GET MY COMPANY CERTIFIED?
ISO 3834 contains three levels of quality requirements and certification is carried out in accordingly. These levels are as follows:
Comprehensive – for specialist welding fabricators where the welding technology, materials and contractual requirements are technically demanding and vary from contract to contract. Typically this could include large steel fabrication projects involving pressure vessels, boilers, rotating equipment, etc.
Standard – for fabricators where the welding technology and materials are technically demanding but the variety and range of product are limited. Typically this could include specialist manufacturers of stadiums, shopping centres, steel supporting structures, etc.
Elementary – for fabricators where both technology and materials are relatively simple. Typically this could include steel safes, gates,household furniture, vehicle exhausts, tow bars, etc.
For further details:
Please contact the SAIW Certification Q & C Manager:
Renier Mostert
Tel: +27 (0)11 298 2134
Fax: +27 (0)11 836 4132
Email: renier.mostert@saiw.co.za
Certification to IS0 3834 List