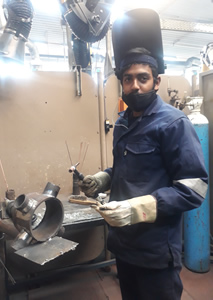 "I am a welder, not because I want to weld, but because I like what welding makes possible." – Unknown
Studying IIW TIG welding course on carbon steel and passionate about building and creating, Sashil Goven from Zimbabwe is just 20 years old and already on his way to becoming an expert welder. Having studied A level Design and Technology at school, his material of choice was metal and once those sparks started flying he was captivated by welding. With the accreditation he will gain at SAIW, he will be a qualified international welder that could take him and his skills all over the world.
Following his path
As Zimbabwe has limited training facilities in welding he was eager to come to Johannesburg having heard about the excellent opportunity at the South African Institute of Welding (SAIW). "I have thoroughly enjoyed the course so far and am very impressed with what I am learning".
Sashil Goven has the wonderful journey ahead of being in an innovative profession that spans a range of industries. Learning from the welding school supervisor Willie Williams and Dennis Bell, the welding instructor, he has the desire to always be aware of advanced procedures and improvements in this challenging and physically demanding trade and is studying intense theory and a variety of practical techniques. These include Arc Welding, Metal Inert Gas Welding, Tungsten Inert Gas and Oxy Acetylene Welding and Cutting, using different types of material and pipe fabrication.
Setting himself up for excellence
SAIW Welding Lecturer, Practical Examiner and Consultant Valencia Hendriks, says Sashil is incredibly dedicated and a very hard worker. "He is quick to pick up difficult processes and is always ready to learn something new and perfect what he has started".
"Achieving what he did in two weeks which would take the average student two months, is a clear indication that Sashil will take his welding skills and impact the world, as after all, welding is a part of our everyday lives."
Incredibly driven, committed to completing projects and keen to learn how to use as many types of welding equipment as possible, he has an excellent work ethic. With the hopes of excelling in his course and gaining immense experience, Sashil's wish is to move to New Zealand, where he has high hopes of using his welding skills in pipeline or structural steel. Already showing signs of prowess in a variety of welding practices with successful, accurate hands, Sashil is well on his way to his dream job.
Update! Following on from a previous profile; one of our students Stephan van Heerden has become an expert in his field having completed his aluminium international qualification in a record four months, two weeks - as opposed to the usual six months that it takes the average student. He overcame challenges, had great successes and was proud to learn from both and says; "My goal is to establish my own welding shop and I can't be more excited to do this".