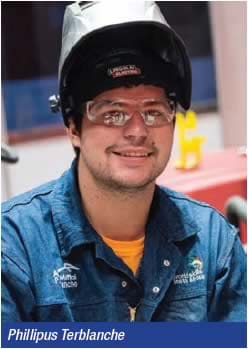 WorldSkills in Abu Dhabi … … the good and the not so good
05 December 2017
Earlier this year, the winner of the 2016 SAIW Youth Challenge, Phillipus Terblanche, brushed aside fellow competitors at the WorldSkills SA competition to earn the opportunity to represent South Africa at the WorldSkills International Competition, which was held in Abu Dhabi from 14-19 October 2017.
According to WorldSkills S.A.'s National Expert and convenor of the SAIW Youth Challenge, Etienne Nell, the SAIW, together with its main sponsors, Lincoln Electric and the Chemical Industries Education & Training Authority (Chieta) embarked on an extensive training program for Phillipus using the projects and applicable mark sheets that were to be used at the Abu Dhabi event.
"Lincoln Electric, our international sponsor, made available their Demonstration Centre for training, and provided us the exact same welding machine and consumables that were going to be used," Etienne says.
He added that the Chieta helped with funding for welding expert, Eduan Terblanche, who has extensive experience in the welding of stainless steel and aluminium, to spend 16 weeks at the Lincoln Demonstration centre coaching Phillipus on the skill-specific aspects of these two difficult-to-weld materials.
Lincoln Electric invited Phillipus to undergo further training at their academy at Lincoln's headquarters in Cleveland, Ohio for a further three weeks which was funded by both Chieta and SAIW. In Cleveland, Phillipus underwent intense training by Lincoln's lead trainer Andrew Cardin. "This was of enormous value and we had high hopes for success in Abu Dhabi after witnessing some of the quality welds made by Phillipus in America," Etienne says. To boost his chances both Etienne and Phillipus were active on the WorldSkills International Competition forum, which gave them access to all the required information about the competition. "This was most helpful in preparing Phillipus for the event since there would be no surprises awaiting him regarding changes in the rules," Etienne says.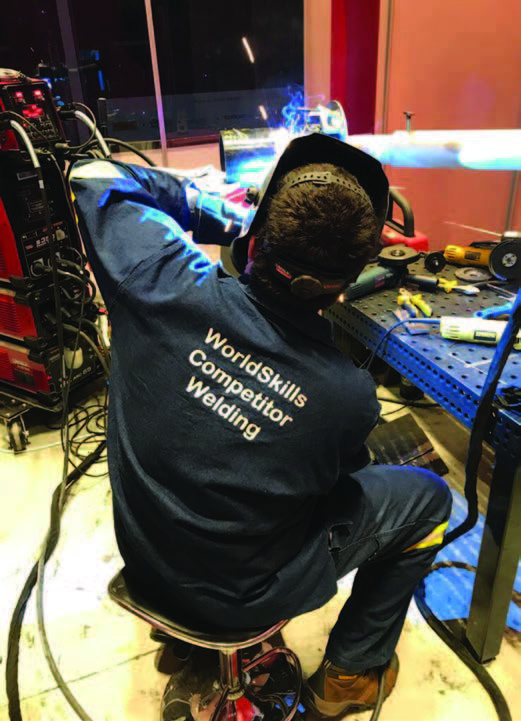 While Lincoln and the Chieta did so much to help Phillipus during training, his response was equally outstanding. "Phillipus was 100% committed and went the extra mile to do as much welding practice as possible and to take maximum advantage of what was offered to him in support. He worked long hours and spent most of the 20 weeks prior to the competition away from home. He excelled at every new task that was given to him and never failed to acknowledge the input from his mentors and my constructive criticism," Etienne says.
He adds that, in essence, there were no limiting factors. "We had access to everything as was stipulated on the infrastructure list including tools, accessories and more". So all was good leading up to the competition. Unfortunately Phillipus only achieved 25th place, which was a disappointing result especially since in the USA he was rated to be equivalent in skill to the Russian competitor who trained with Phillipus in Cleveland. The Russian competitor ended in a very creditable 9th position overall.
"These things happen," Etienne says. "How many times do highly trained and favoured teams or people lose their composure in major competitions (take SA Cricket for example)? Our  competitors still need much more exposure to international events, and we need more funding all-round to be able to train for even longer periods. In addition, I feel that WorldSkillsSA need to look at their overall performance and to analyse how they could do more to take note of the National Experts' understanding and experience in the disciplines in which they have worked for so long."
But Etienne concludes on a most positive note: "I must commend Phillipus on his wonderful, positive attitude throughout. He tried his very best and perhaps choked a bit when it counted. This happens to the best competitors in every sphere. The great ones get up from the disappointment, overcome the bad experience – and their fears – and push on! Well done Phillipus!