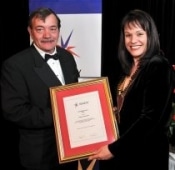 Welding stalwart recognised at SAIW Awards
13 September 2010
The Southern African Institute of Welding (SAIW) recognised exceptional achievement across a broad spectrum when it presented its annual awards recently.
The Institute's highest honour, the Gold Medal Award, went to welding stalwart Prof Andy Koursaris in recognition of the impact he has made on training welding engineers and his contribution to the development of the Institute.
Introduced in 1966 this award recognises a company or an individual who has significantly contributed to welding technology or to the Institute. In SAIW's 62nd anniversary year they were pleased to have a winner who is widely acknowledged for his contributions to both.
Born in Cyprus Prof Koursaris came to South Africa in 1975 and joined Wits University carrying out research which lead to his PhD. He became a lecturer at Wits in 1979 and remained with the university until his recent retirement in June this year.
For the last 10 years or so Prof Koursaris has been the coordinator of the Wits/SAIW welding engineering programme. He took over the programme when it was undergoing significant change and has been primarily responsible for its rationalisation and alignment with the International Welding Engineer programme of the International Institute of Welding. The programme still runs successfully and has produced well in excess of 100 welding engineers.
A prolific publisher, Prof. Koursaris has more than a 100 publications to his name. He is widely respected for his technical acumen and the contribution he has made to many areas of the industrial application of metals and materials over more than 30 years.
The Harvey Shacklock Gold Medal Award for best Technical paper went to Morris Maroga of Eskom for the paper 'Material Selection and Design for Supercritical Boiler Pressure Parts' which was presented to the SAIW Technical Meeting in October last year.
This award was created in memory of Mr Shacklock's contribution to the welding industry and was first presented in 1949. It is not an annual award and is only given if papers are of a high enough standard.
It was noted that it was the third year out of four that the award was made in recognition of work that originated from Eskom and testament to the development work that goes into ensuring welding in power stations is treated with the respect it deserves.
Top student Mark Sloan received the Phil Santilhano Award which is presented to the best student on the Institute's flagship courses in Welding Supervision and Inspection. Mark achieved distinctions in both the Level 1 and Level 2 Inspector courses. Since completing the inspector courses he has also gone on to successfully complete both Competent Persons courses and the ASME Codes course.
Phil Santilhano was the SAIW's first full time employee who passed away a short time after joining the Institute as its technical director. The memorial award was established in 1984 in recognition of his contributions to the welding industry.