WEBINAR 5: A Career in Non Destructive Testing (NDT)
Topic: Learn about a career path that is essential to production, overhaul and maintenenace, and which serves as an integral part of the engineering and manufacturing process.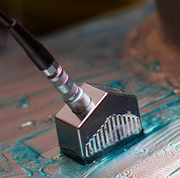 Date: Wednesday, 29 April 2020
Time: 12PM
Presenter: SAIW NDT Training Manager Mark Digby
NDT personnel test materials or products for any imperfections without destroying the products or materials and is not only limited to testing of welds, but can be extended to various product sectors such as castings, forgings, tubes etc. and applied in most of the industrial sectors such as pre-and in-service testing, power generation, petrochemical to name just a few sectors. NDT personnel form part of the chain of various fields of expertise which are used to ensure the world is using high quality products which pose little risk to the end user. This webinar will cover the benefits of a career in NDT as well as the courses that SAIW offers in six different NDT testing methods.