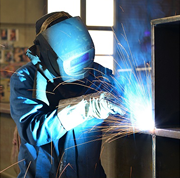 WEBINAR 4: A Career in Welding
Topic: Welding is in a strong growth phase and receiving increased interest as not only an opportunity for employment but meaningful advancement during your working years
Date: Tuesday, 28 April 2020
Time: 12PM
Presenter: SAIW Training Manager Shelton Zichawo
In recent decades welding has become a dominant process in the fabrication of industrial products and in the building of structures from steel. It is used in all phases of production and is needed not only nationally but also internationally in almost every industry.
Completing a trade course in welding can virtually assure you of gainful employment opportunities for advancement during your working years.
Find out all about how SAIW offers training on how to be a practical welder and progression to welding supervisor/foreman via welding coordination courses. This webinar will benefit students seeking a career in leading welding teams and managing the day-to-day operations of a fabrication shop for example, welding engineer, welding technologist, welding specialist etc.