The SAIW Welding Fabricator Certification Scheme (ISO 3834)
The ISO 3834 certification of fabricators in South Africa has become one of the most successful initiatives of the SAIW, SAIW Certification and welding industry as a whole in South Africa.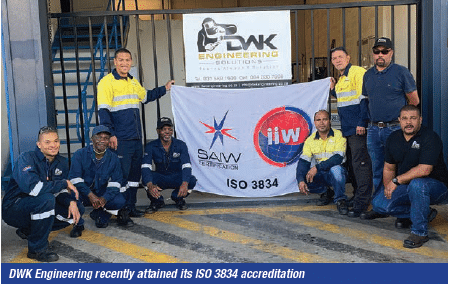 We are taking this opportunity to remind fabricators and construction companies what this is all about. SAIW Certification, the certification division of SAIW, is authorised by the International Institute of Welding (IIW) to operate its Manufacturer Certification Scheme in South Africa. SAIW Certification was the first organisation outside Europe to receive such authorisation.
Locally the scheme, which is suitable for both manufacturing workshop and construction site activities, is known as the SAIW Welding Fabricator Certification Scheme. It is based on the ISO 3834 standard – Quality requirements for fusion welding of metallic materials – and certified compliance means global recognition of a company's capabilities. SAIW Certification CEO,  Herman Potgieter says it clearly: "ISO 3834 is the basic quality benchmark in our industry and ISO 3834 accreditation officially confirms for all who achieve it that that they provide a world  class service," he says.
Potgieter adds that ISO 3834 accreditation is not only an affirmation for the 'outside world' that an accreited compnay is a thoroughly professional organisation, but it is also an internal affirmation. "It is important for every company to get an objective statement about its quality. No matter how big or small one's company is, one can fall into bad habits without realising it.
So independent verification of one's standards is vital," he says.
For Big and Small alike
There was a time when the industry felt that ISO 3834 accreditation was for the biggest companies only. Of course this is not true and the number of companies, both big and small, applying for accreditation continues to grow exponentially in South Africa.
"This is an excellent thing as compliance with ISO 3834 ensures that the end-users know who they are dealing with," Potgieter says.