Student Profile Hall of Fame – Andre Hattingh
Success is not luck – it is the result of hard work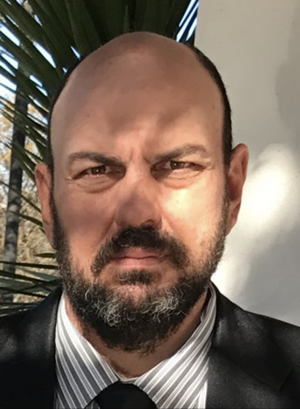 The welding field is one that often doesn't get the recognition that it deserves, and we are often tempted to overlook the time, effort, and talent that it takes to become a skilled and knowledgeable expert in the field. Welding is undoubtedly a stable, profitable, and exciting career choice that is always in high demand. Skilled welders know that the welding technique requires attention to detail and technical knowledge but it also allows them to show off their creativity and skill.
One such welding professional is Andre Hattingh, who began his career in 1995 as an aircraft machinist apprentice for the South African Airforce. His strong desire to be the best in the field took him on a journey of continuous learning and improvement. After specialising as an Aircraft Welder, he went on to complete his National Diploma in Engineering in 1998 and qualified as a welder artisan in 1999. He soon moved up the ranks to become a welding instructor for apprentices as well as a workshop inspector, but still had a strong desire to do more.
Andre enrolled for his first course at the SAIW in 2004 and obtained his Welding/Fabrication Inspector Level 1 qualification, with his level 2 qualification in the bag a year later. He resigned in 2006 and with the aid of his new qualifications accepted a new position at PB Power as a welding/ fabrication Inspector. Andre certainly showed no signs of complacency and utilized his time to the fullest by concurrently starting training as an inspector of pressurized equipment as well as a competent person Boiler and Vessels on the power stations. Hard work and dedication pay off, and in 2006 he obtained his Welding Inspector Comprehensive level qualification.
2006 Saw him enrolled at the SAIW again for the Competent person Vessels, Competent person Boiler, ASM codes of Manufacture and The National Board Inspection Code courses, all of which he completed. He was certified in these fields in 2008, and thereafter appointed as a Senior Inspector at Murray and Roberts on the Medupi and Kusile projects.
Andre believes that every course that he completed through the SAIW has been instrumental in equipping him with both the knowledge and expertise to perform at the top of his game and has been vital in his career progression. According to him, the SAIW is more than just an institution. It is a place where students are treated with dignity, respect, and where everyone's name is known.
It is no secret that education is the key to success, and this is personified in Andre Hattingh, who just grew from strength to strength as a result of continuous learning. His journey led him to TuV Rheinland at the Matimba Power Station in 2012 where he was appointed as Site Manager and AIA Representative. From there it was back to the drawing board so to speak and Andre obtained his International Welding Technologist qualification in 2018.
Overall, Andre's love for welding is driven by a passion for working with his hands, and he cites being able to see the quality of a finished product as one of the most satisfying factors of his chosen career. He revels in the fact that no two days in the industry are the same, and every day presents opportunities to grow and learn. Although it is not an easy field to work in, there is an incredibly strong focus on health and safety, and it's crucial for welders to know how to handle the equipment that they have to work with daily. One thing is evident – the risk is outweighed by the benefits but education is vital to growth.