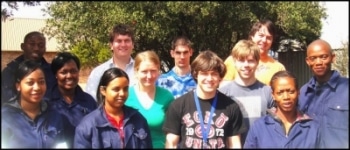 Sasol inspector training programme bears fruit
In 2007, Sasol Synfuels in Secunda embarked on a dedicated Pressure Equipment Inspector training programme in conjunction with the Southern African Institute of Welding (SAIW) to address the threat posed by the chronic shortage of certified inspectors throughout industry. Some three years later, the first of 18 students have been awarded Inspector of Pressurised Equipment (IPE) or Competent Person (CP) certification by SAIW Certification.
The group includes James Cochrane, who received the Phil Santilhano Memorial Award in 2008 as the top student in Welding Supervision and Inspection. James achieved distinctions in both the Level 1 and Level 2 Inspector courses.
Underlining the success of the programme, the original group of students has since been followed by three more, starting in February 2008, July 2008 and February 2010 respectively.
Students are selected from grade twelve learners, based on aptitude and grades, and sponsored by Sasol Synfuels for a three-year training period. Training consists of 12 months' theory at SAIW followed by a minimum of two years' practical experience at Sasol.
Theoretical training covers NDT Level 2 (Magnetic Particle and Liquid Penetrant Testing), Ultrasonic Level I, Radiographic Interpreter, Coatings, Pressure Vessels and Boilers, Welding Inspector Levels 1 and 2, and Petrochemical Plant modules.
During the two years of practical training each student is assigned to an engineer/section leader at Sasol Synfuels. Students are required to maintain a log book, which is then handed in for certification as IPE or CP by SAIW Certification. Both IPE and CP certifications are sanctioned by the Department of Labour.
Though the training programme is a Synfuels Secunda initiative, it also benefits other business units within Sasol. Students are based in Secunda but able to work at any plant or support Sasol projects globally.
Synfuels Secunda alone has some 80 inspectors and it is estimated that about 80% of CPs and IPEs in South Africa have completed some Sasol training. Many Sasol section leaders/engineers sit on voluntary SAIW committees, sharing their expertise to the benefit of industry as a whole.
The training programme at Synfuels Secunda is overseen by Frikkie Buys. Mark Mason is responsible for monitoring progress, logistics and the coordination of training.