SAIW STUDENT PROFILE: Ntokozo Xolani Lukhele: A Journey of Passion and Perseverance in the Welding Industry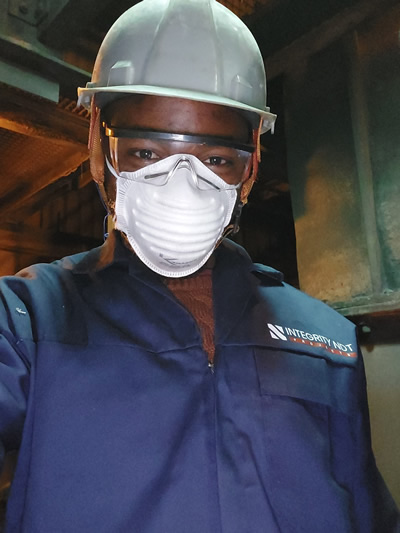 In the picturesque town of Hendrina, nestled in the heart of Mpumalanga, a young and determined individual emerged with a burning desire to make a difference in the welding industry. Meet Ntokozo Xolani Lukhele, a name that is slowly but surely making waves in the field of welding inspection and quality assurance thanks to his world-class SAIW training.
Ntokozo began his academic journey in his hometown, attending both Hendrina Primary School and Kragveld Primary School. As he progressed in his studies, he sought a broader educational experience, enrolling at Middelburg Combined School and Carolina Academy for his high school education. During this time, Ntokozo's passion for welding began to grow.
Driven by his desire to explore new horizons, Ntokozo enrolled at the University of the People in Pasadena, California, to pursue a Bachelor of Science in Public Health. However, he soon realised that his true calling lay within the welding industry. Recognising this shift in his passion, he made the bold decision to change his academic path and pursue his dreams in metallurgy.
Forging a path to welding inspection success
At the age of 18, Ntokozo embarked on his first Southern African Institute of Welding (SAIW) course, starting with the Welding Inspector Level 1. Eager to expand his knowledge and skills, he continued his journey with Level 2 in 2017, followed by Ultrasonic Wall Thickness Testing in the same year.
Today, Ntokozo holds these qualifications, including a Level 2 certification in Visual Testing. His dedication to professional development led him to acquire additional certifications, such as Project Quality Assurance Management from MSBM UK and Welding Metallurgy II from the esteemed American Welding Society (AWS), known for its contribution to major industry standards like AWS D 1.1.
Throughout his career, Ntokozo has encountered challenges that have tested his resolve and capabilities. Joining Sasol in 2018 as a welding inspector presented him with his first major challenge. As a newcomer to the welding and fabrication department, Ntokozo faced the pressure of his first shutdown, where he had to work directly in the welding department. Undeterred by the demanding circumstances, he proved his competence and adaptability.
In 2021, Ntokozo joined Babcock Ntuthuko Engineering, where he faced another set of challenges. Many individuals doubted his abilities due to his age, and he had to overcome this perception by showcasing his skills and knowledge. Furthermore, adjusting to a new quality management system posed a paradigm shift as it differed from the standards he had grown accustomed to. However, Ntokozo's resilience and determination prevailed, allowing him to thrive in this new environment.
A passion for continuous growth
Ntokozo's passion for continuous growth and learning led him to aspire to become an International Institute of Welding (IIW) International Welding Specialist. Although he initially wanted to pursue this certification immediately after completing his Welding Inspector Level 2, he realised that the knowledge gained would not have been directly applicable to the companies he worked for at that time, as his career predominantly focused on non-destructive testing (NDT).
Recognising the importance of this certification for his current role as an inspector, welding coordinator, and quality assurance professional, Ntokozo decided to embark on this journey this year, aligning his skills with the evolving demands of his industry.
A journey of resilience
Currently, Ntokozo is working towards completing the International Welding Specialist certification, a testament to his unwavering commitment to excellence and professional growth. Despite the challenges he has faced, Ntokozo remains resilient, drawing inspiration from his journey thus far.
Beyond his academic pursuits, Ntokozo embraces a broader personal and professional development perspective. He firmly believes in the importance of independence and continuous learning in the workplace, emphasising that one should not be confined by job descriptions. In his own life, Ntokozo has learned that pursuing one's desires without being overly influenced by others' opinions is crucial to personal fulfilment and success. He encourages aspiring professionals to strive for greatness in everything they do, refusing to settle for mediocrity.
Looking ahead, Ntokozo envisions a future where he becomes an inspector of pressurised equipment, bolstered by an SAIW International Technologist Diploma. He recognises the symbiotic relationship between these achievements and understands that attaining one without the other would leave him longing for more. With the completion of the IIW IWS on the horizon, Ntokozo is eager to embark on the next chapter of his career, bringing him closer to his ultimate goals.
Ntokozo's relentless pursuit of excellence and his unwavering determination positions him as a rising star in our industry. With his comprehensive skill set, certifications, and steadfast commitment to personal growth, Ntokozo is poised to make a significant impact in the field of welding.