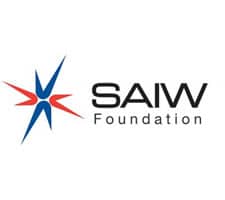 SAIW Foundation in Revolutionary Apprenticeship Scheme
Industry partners invited to participate
The SAIW foundation has decided to run an apprenticeship programme for 20 students and is looking for industry partners to invest in the scheme.
"This is no ordinary exercise," says programme convener SAIW's Etienne Nell. "It is a 'dual system' apprenticeship programme that combines technical education and simulated practical  training at the SAIW with authentic work experience in a fabricator's workshop."
Nell adds that these workshops typically belong to SAIW industry partners and the simple equation is that the SAIW Foundation, the students and, in the end, the country, need your participation in the programme to make it successful.
"This is not a straightforward hand-out system," Nell says. "A company will be reimbursed R165 000 per annum per student it employs in addition to getting the relevant tax rebate, BBBEE points and the productive value of the apprentice's work.
He adds that there are further advantages for the company after the training including: skilled employees trained to industry standards & acculturated to the company; enhanced employee retention and lower recruitment costs. "All in all, it's an ideal win-win arrangement," Nell says.
The programme aligns itself with the Quality Council for Trades and Occupations (QCTO) Artisan Welder Curriculum which is aimed at producing: a skilled and capable welding workforce to support economic growth; an increased availability of intermediate welding skills and an increased delivery of properly qualified artisan welders. You may ask what's new about this training model? A cursory glance at the differences demonstrates just how revolutionary it is.
Current System:
Public providers and TVET colleges offer welder training; Qualifications are not linked to occupational competence; many curricula outdated; trade theory front-loaded, with long intervals between theory and practice; most college students get no practical training or work experience; most students selected by college without reference to employers; few linkages between public colleges and industry.
The growing efficiency of your investment*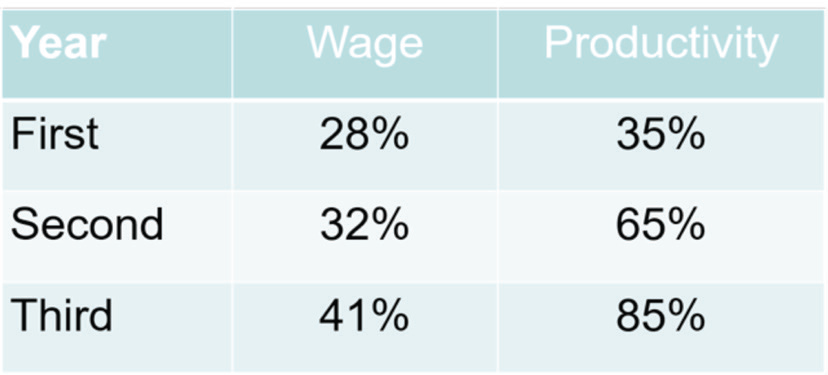 *The figures represent the percentage of a qualified artisan
Source: "Final Report of Cost-benefit-Quality Project." MerSETA & University of Bremen; June 2016
New System:
New qualification reflects occupational competence; new, industry-designed curricula; trade theory, simulated practice and work experience tightly interwoven; all students will now get practical training and work experience; employers select and manage their own apprentices; close interaction between the SAIW and employers. So, what do you have to do in order to get this going? Commit to the QCTO curriculum and Dual System approach of apprentice training; secure apprentice contracts; register your apprentice contracts with your SETA and QCTO; apply to your respective SETA for your grants; work with the SAIW to ensure the best possible outcome by helping in quality assuring workplace learning.
The Role of the SAIW Foundation
Among other things the SAIW Foundation will also subsidise the institutional training cost of the 20 apprentices and will remain committed to the QCTO curriculum, together with Dual System Learning for Apprentice's programme.
"In addition to this we will assist in maintaining the required Statements of Results, which is a prerequisite for External assessment, as required by QCTO and we will remain an active member at NAMB in the development of the new Trade Test," says Nell.
Get on board! Help in building a skilled workforce like no other! EVER!!
FOR MORE INFORMATION PLEASE CONTACT ETIENNE NELL ON 082 758 3884