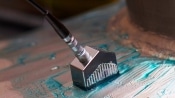 Possible Change In NDT Training
15 July 2016
The harmonisation of second and third part assessment certification schemes employed in the South African non-destructive testing (NDT) industry could result in continuous skills development and enhanced personnel competence, with companies and employees also retaining a stronger development position in the international NDT community.
Southern African Institute of Welding (SAIW) systems and quality manager Harold Jansen tells Engineering News that, in trying to improve NDT – which is not formally recognised as a profession in South Africa – a joint venture between national NDT society the South African Institute for Nondestructive Testing (Saint), the South African NDT community at large and the SAIW has resulted in a bid to gain formal acknowledgement of the NDT industry from government, through the South African Qualifications Authority-registered Saint professional body for NDT, which will subsequently enable NDT technicians to retain professional designation status, and allow for job recognition and participation in opportunities assigned for formal occupations.
"South Africa is leading the way for NDT in Africa, but, as we are able to provide certification in only one sector, namely pre- and in-service testing, we lack skills relating to the railand nuclear sectors, two significant national development projects, for which 'localisation' of scarce skills, such as NDT, is critical."
He adds that training, qualification and certification in South Africa remains a quagmire for technicians hoping to advance their careers in NDT. Currently, between 700 and 800 potential apprentices a year enrol for the SAIW's NDT training programme, for which the course is designed around ISO 9712, which describes the basic qualification and certification of NDT personnel.
Additional training bodies are also currently being authorised within the South African Qualification and Certification Committee of NDT (SAQCC-NDT) scheme, administered by personnel certification body SAIW Certification, to provide recognised training programmes towards SAQCC-NDT personnel certification.
SAIW Certification, the separate legal entity responsible for qualification and certification of NDT personnel, is accredited by the South African National Accreditation Body as a personnel certification body in accordance with ISO 17024 under the scope of ISO 9712.
SAIW Certification is also registered with the world organisation for NDT, the International Committee for NDT (ICNDT) under the Mutual Recognition Agreement: Schedule Two. SAIW Certification administers the SAQCC-NDT scheme, which is a qualification scheme developed by the South African NDT industry for the South African NDT industry, in compliance with national and international requirements.
"Internationally recognised SAQCC-NDT certification for all six basic NDT methods is available for the pre- and in-service industrial sector, which includes various product sectors, such as castings, forgings, tubes, pipes and welds, as well as relevant categories pertaining to specific sample geometries or method application. Should the NDT industrial sector in South Africa expand, technicians could become involved in the international rail and nuclear projects under way in South Africa," Jansen states.
"Prior to an individual being regarded as an NDT technician, proof of the qualification, which should be assessed independently, is required. To this end, ISO 9712 is a personnel-centred certification system, which provides independent training, examination and qualification assessment related to international codes and specifications in various industrial and product sectors. Since it is personnel-based, it can be carried over from one company to the next. This, however, does not replace the company-specific mentoring, assessment and authorisation process which is required, since testing is performed by personnel on behalf of the company, hence, requiring authorisation or company certification to work on their behalf."
He avers that company certification, in accordance with the recommended practice, ASNT SNT-TC-1A, has also positively influenced NDT qualifications in South Africa, and the importance thereof must never be disregarded. He notes that technicians who are certified by an employer often lose their company certification when they eventually leave the company, having to reapply, be mentored and reassessed for company certification on starting at a different company, with no 'basic qualification' that can be carried over -hence, the need for basic personnel certification.
Although technicians run the risk of losing company certification when switching employers, Jansen says, in-service mentoring, assessment and consequent company authorisation or certification are critical in maintaining competence and improving skills, and, to this end, theindustrial experience duration stipulated in ISO 9712 prevails over the formal training programme duration. The advantages of in-house training allow for the mastering of practical skills.
A stringent mentoring programme for young technicians provides more competent technicians. This is particularly important as competence in South Africa is regularly misunderstood as being achieved after only two theory examinations and one practical examination, with companies very often omitting the phase during which technicians are mentored by company engineers or experienced and certified NDT personnel, which helps to expand technicians' skill sets.
International Standing
While South Africa is finding its feet in the international NDT sphere, Jansen says, the African Federation of Non-Destructive Testing (AFNDT), with the SAIW as secretariat, continues to be a forerunner for the expansion of NDT inAfrica, with the continuous support of the ICNDT and the International Atomic Energy Agency. The AFNDT is one of the four regional federations of the ICNDT, with the remaining three comprising the Asia Pacific Federation for Non-Destructive Testing, the European Federation for Non-Destructive Testing and the Pan-American Conference for Non-Destructive Testing.
Currently, the African NDT federation comprises eight member countries, including Algeria, Angola, Cameroon,Ghana, Kenya, South Africa, Sudan and Tunisia, with the possible inclusion of Nigeria, Egypt, Uganda and Mauritius in the near future.
"South Africa and many other African countries have sustainable market capacity for only one NDT industrialsector. The smaller NDT communities find it difficult to even sustain one industrial sector, making the sector expansion into Africa even more challenging," Jansen states.
He adds that a possible solution to expanding the NDT community, as well as the skill sets of technicians in South Africa, would be to partner with international corporations implementing large projects in Africa.
"All the international companies functioning in South Africa need to comply with the 'localisation' requirements set by government and stipulated in the National Skills Development Strategy; since NDT is regarded as a scarce skill, knowledge transfer in South Africa and Africa is critical. As several foreign projects are subjected to local laws, local authorities have to inspect projects, thereby possibly enhancing a particularly underdeveloped set of skills."
Meanwhile, the lack of local NDT knowledge in certain industrial sectors, such as nuclear energy, has prompted companies operating in the country to subcontract NDT work in these sectors to foreign companies.
"By ensuring a professional designation process that incorporates basic training, qualification and personnel certification in accordance with ISO 9712, company specific mentoring, assessments and company authorisation/certification, end-user approval and a continuous skills development programme, South African NDT personnel will continuously improve their competence and be able to maintain lasting partnerships with international companies to ensure these skill sets are maintained and improved and even exported abroad," concludes Jansen.