"Don't be afraid of the future, build it."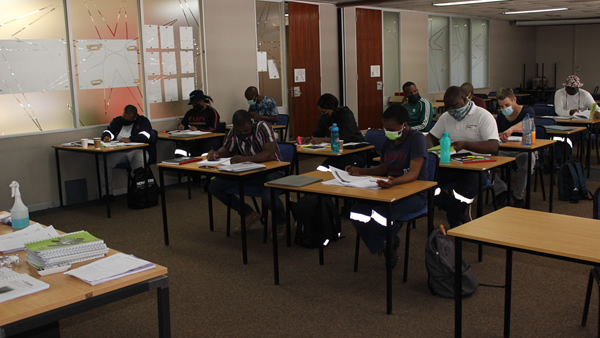 Makgabo Belinda Rampaku recently began their theoretical Welding Inspector Course 4-week programme. The course is purely theoretical as Level 1 does not require inspectors to be qualified welders, as they are taught how to distinguish welding positions that concentrate on metallurgy, joint designs and defects.
The four students all agreed that the course has been challenging but the hard work will pay off in the end. Twala says, "We have excellent training under master welder's careful eyes and are all so excited to be climbing the welding ladder, to bigger, brighter futures."
Mahlatse from Lepahalele in Limpopo is 30-years old and a qualified welder with experience working on boilers at Medupi and Letaba power stations.
Aletta from Mpumalanga Standerton is 36-years old and after school assisted elderly people with rehabilitation. Her path took her to become an assistant pipe fitter at an engineering company and along the way she was upgraded as a bulk fitter. Showing great promise, she followed her passion and did training at Azwane Tutuka Power Station training for NTMTP and in September 2021 was at Sasol.
Makgabo from Gauteng matriculated and started at Letaba Power Station in the Free State as an assistant and couldn't be happier.
Sanele from Mpumalanga matriculated in 2013 and went to Mkamdaaa TVET college to study Mechanical Engineering. From 2018 to 2020 he was a welding apprentice at Kenred Engineering.
SAIW Business Development Manager Etienne Nell says, "This opens the door for them to pursue a career in welding after some experience. When they complete Level 2, they will become inspectors of pressurised equipment, competent persons as required by law or remain working in factories and on-site as welding inspectors."
SAIW offers the full range of IIW qualifications – Engineer, Technologist, Specialist, Practitioner, Welder and Inspector. They also have strong affiliations with leading training organisations such as the Universities of the Witwatersrand and Pretoria.