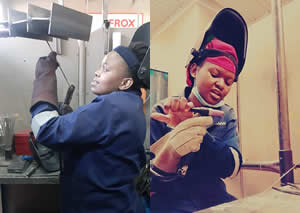 Since World War 2 women have been practicing the art of welding, and now fast forward to 2021, and two exceptional females have taken up this male-dominated field and excelled at the South African Institute for Welding (SAIW). As welding is described as 'the act of joining two pieces of metal in a permanent bond', so now Palesa Mokoena and Fhumulani Netshakhuma are a new generation of women who have 'bonded'; with welding. So dedicated and focused on their coursework and modules, they completed the workload two weeks earlier than the allotted time. With an eye for aesthetics, precision and a steady hand, they have conducted their training in booths fitted with fume extraction. They have a grounding in using carbon steel or welding with stainless steel and aluminium if preferred.
Welding a new generation
Fhumulani was eager to pursue welding as a career for several reasons including dispelling the myth that women are seen as weaker in this industry. She states that this is most certainly incorrect. "Women are often overlooked in this field and they shouldn't be. Over 5% of the workforce in the American Welding Society are women". She further adds, "You learn valuable skills to use outside work and there is plenty of diversity within the industry".
While at the SAIW these two potential powerhouse women studied intense theory and a variety of practical techniques with intricate detail including Arc Welding, Metal Inert Gas Welding, Tungsten Inert Gas and Oxy-Acetylene Welding and Cutting using different types of material and pipe fabrication. In so doing they have diversified the workforce and developed profitable opportunities for other women.
In terms of how they accessed the SAIW bursaries, Palesa by chance saw an advert on Facebook that SAIW was looking to sponsor two bursary students. Jumping at the opportunity, she was one of the chosen ones and thoroughly enjoyed the theory and the varied practical work in the workshop. Incredibly motivated to continue to work as a welder, she has great hopes for other women to get involved in the industry.
SAIW Welding Lecturer, Practical Examiner and Consultant Valencia Hendriks, the ultimate multi-tasker, cannot be more proud of her students. "They have performed brilliantly and have been so dedicated and committed. It's not easy work for ladies, but they have passed all their theory modules and excelled in their practical work".
The future of welding
Fhumulani's goal is to become a Welding Engineer and she is well on her way to achieving this very rewarding, in-demand position. Palesa hopes to travel around Africa and inspire women to be leaders in their field, and with welding being a sustainable driver of economic growth, this could lead to ensuring a better future for all.