Message from the President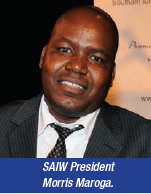 The 70th Anniversary is indeed a momentous occassion for the SAIW and the culmination of this celebration is at our Annual Dinner on 7 September.
This is an opportunity for you our members and members of the welding industry at large to participate and make this moment a truly great one. I urge you all to get involved by becoming a sponsor and helping to make our 70th year live on in memory for years to come.
Please read the details below and take action.
Click here for more information or Download the information.
Thank you.