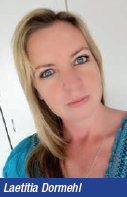 Meet the SAIW Team – Laetitia Dormehl
The success of every organisation hinges on its people. The SAIW has propelled itself to the summit of welding-fabrication training in South Africa. But, behind this feat is a team of committed
individuals who excel and give their all in what they do every single day. One such person is Laetitia Dormehl, senior training administrator, who is the first point of call for every student wishing to go through our training regime.
Administration is the backbone of any department in an organisation. An effective administrator is the connection between an organisation and its various stakeholders and ensures the smooth flow of information from one part to the other.
Such is the importance of Laetitia Dormehl, the training administrator at the SAIW, who is the link between the organisation and all aspiring students. She is the senior training administrator for all courses offered by the SAIW, and is, therefore, the first point of call for anyone looking to be part of our training revolution. Her role entails booking and assisting all students on the online system, as well as serving walk-in customers, providing both accurate information and prompt service by being approachable, helpful, respectful and professional at all times.
Laetitia has been with the SAIW since July 2010, having started in the accounts department as a debtors' clerk. Testimony to her outstanding capabilities is that she was promoted to the training department in less than two years. "I had to learn to work directly with the public. It was a bit of a bumpy ride at the start, but it eventually went well. I have been in the training department since 2012, and still going strong," she says.
Laetitia has since fallen in love with the welding industry. She finds it "very interesting", especially the Non Destructive Testing (NDT) methods and fault finding.
Born and bred in Germiston, in the East Rand, Laetitia matriculated at the Afrikaanse Hoerskool in Germiston in 1995. She started working at the age of 19 as a receptionist. She has also previously worked as an estate agents for several years, before taking a job at a fresh produce market for some time. She decided to study further and gained knowledge in the fields of  bookkeeping and accounting.
Wedding bells are ringing for Laetitia! She is engaged to be married and has two grown kids. Laetitia is a firm lover of the outdoors and camping. Being outside makes her feel inspired, rejuvenated and motivated to explore even more.