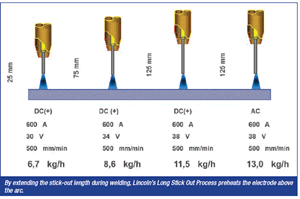 Lincoln Emphasises Skills Development …
08 August 2017
… and Introduces Cost-saving Welding Technique at SAIW Evening
Thulani Mngomezulu
Lincoln Electric, supplier of welding equipment and solutions, prides itself on promoting welding skills in South Africa. This is according to Thulani Mngomezulu, technical manager at Lincoln Electric South Africa. "Skills development is paramount in our country and is an absolute priority for our company," he says.
It is for this reason that Lincoln is a major sponsor of welding equipment and consumables for WorldSkills International. "Lincoln do not just sell product," says Etienne Nell, SAIW new business manager. "They are very involved in the development of skills in South Africa and globally for that matter."
Recently Lincoln invited all TVET Colleges and other Welder Training providers to an open day where they demonstrated their welding simulators Real-Weld welding monitoring equipment and also set up a live link to their offices in Cleveland, Ohio for an explanation on their numerous online theoretical training programmes.
"It was a most interesting presentation from a company which goes the extra mile in helping customers to maximise their product knowledge and business efficiencies," Nell says.
Lincoln at SAIW Evening – Long Stick Out for Optimising SAW Deposition Rates
Lincoln also goes the extra mile in imparting high-level welding information for the benefit of the industry. Earlier this year Mngomezulu presented a talk about submerged arc welding (SAW) highlighting an effective and cost-efficient way to achieve higher deposition rates.
Describing the SAW process, Mngomezulu says it involves solid or cored wired electrodes that are externally shielded via a granular flux. "DCEP (dc+), DCEN (dc-) or ac polarity can be used, with each option being associated with different
deposition rates and penetration characteristics," he says.
SAW relies on an electric arc or arcs between one or more wires and the weld pool. The arc and molten metal are shielded by a blanket of granular flux, deposited by welding onto the workpiece. "The process is used without gas and with filler metal from the consumable electrode – and sometimes from a supplemental source," Mngomezulu says.
The advantages over other welding processes include: high deposition rates; typically deep penetration; high operating factors, due to mechanised nature of the process; and low hydrogen levels in deposited weld metal.
Lincoln's range of advanced SAW process options includes: single arc; tiny twin arc – a process that feeds two wires from the single power source to increase deposition rates; and multiple arc actions like tandem; tandem twin; and triple arc systems, which all require more than one welding power source. Mngomezulu then introduced a way of significantly increasing SAW deposition rates with a single arc, one wire and one power source via Lincoln's Long Stick Out process, which, according to him, takes full advantage of the resistance heating in the process in order to drive deposition rates up.
By extending the electrical stick-out length during welding the Long Stick Out process preheats the electrode above the welding arc. This significantly increases the 12R heating and, therefore, the total melt-off rate. Deposition rates using
Long Stick Out can be increased by up to 100% without having to increase the current settings," he says.
Critical to the success of this process is the arc striking sequence. "The arc characteristics, as well as the specific arc strike sequence used on Lincoln Power Wave AC/DC 1000 machines overcome this challenge and gives reliable results," he concluded.