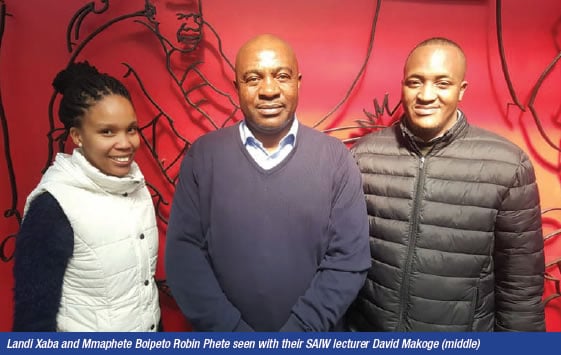 Join SAIW Foundation in implementing social responsibility projects
SAIW Foundation is currently partnered in two projects with ArcelorMittal and Afrox which are providing 30 apprentices with top-class training, enabling these young people to go on and to become highly skilled welders and begin a life-time career in the welding industry.
In these joint projects SAIW provides the required institutional training and the work- place training is either provided by the partner employer company or the partner company assists in placing the apprentices with an employer organisation. Both projects are well underway and headed for success.
The Foundation is also providing training for two International Welding Technologist students, Landi Xaba and Mmaphete Boipeto Robin Phete.
They are now about halfway through the IWT programme and there is every indication they will be successful in achieving the coveted IWT qualification.
SAIW Foundation was established in 2013 as a not for profit company to provide training and qualification opportunities to needy students. The Foundation is funded by donations and is able to provide tax certificates allowing companies to deduct donations from taxable income.
"There is a great opportunity for our industry members and clients to join with SAIW Foundation to use all or part of their social expenditure to train people an let them achieve qualifications which will stand them in good stead for a life-time ahead," says SAIW Caretaker Executive Director, Jim Guild.
He adds that donations to SAIW Foundation can be as large or as small as the donor company wants. "Perhaps a company wants to provide funding for just one or two young students to obtain a welding or non-destructive testing qualification such as International Welding Technologist, SAIW and IIW Welding Inspector or Surface and Volume testing NDT qualifications to give them a start to obtain a job" he says. Guild explains that in these cases the Foundation can do all the 'legwork', identify and recruit the beneficiaries and try and help them find work. But the donor company has the benefit of being recognised as the awarding donor.
Alternatively, the company may want to join in a substantial project and play a significant role as well as being the funding donor. The current ArcelorMittal and Afrox projects are good examples of this type of project. In all cases, part of the donation is tax deductible.
The management team at SAIW believes joining with the SAIW Foundation to address social responsibility is one of the most rewarding initiatives a company can undertake. The donors are helping needy beneficiaries to get a qualification which will stand them in good stead for life.
Interested companies should please contact either Etienne Nell or Michelle Warmback on 011 298 2100.