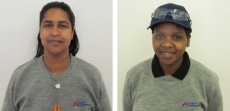 Job Creation Through Welding
Haley Naldrett from Cape Town was sent on a basic welding course at the age of 36 by her employer and found that she enjoyed every minute, so much so that she changed from the workplace to join John Thompson, a leader in the field of boiler technology, just to be able to continue with welding. Although Naldrett already had her Matric, N2 and N3 National Diploma, ISO 9000:2001, AutoCAD 2D introduction to 3D and PC Business, she continued her studies in welding.
She found the training stage very difficult in the beginning, but it got easier as she got used to it. "Practice makes perfect," says Naldrett. "Choosing welding as a career was probably one of the best choices I have made. Welding has taught me a lot of patience. I found that welding wasn't just a skill; it is what I would call art. Sometimes you get it just right and other times your welding is just PERFECT! Every single day you are being tested on different welding that requires different methods and different skills. That is why I love welding for it is a new challenge every single day. One of the best things about being a welder is when you push yourself to the limit, when you lift your helmet and look at the beautiful welding you just did and want to call everybody to come have a look. It is so rewarding!"
Of course it was a challenging career choice as John Thompson has, for many years, operated with male welders only. Naldrett found the engineering environment harsh and after the trade test it was like being thrown into the deep end. "It is important to draw on your inner strengths and experiences and stand firm," says Naldrett. After her studies to become a qualified welder, Naldrett trained to become a welding inspector and qualified eight months ago. She is now a trainee welding inspector with career choices she never dreamt of before opening up to her.
Another young person who chose welding as a career path is Ntomboxolo Zono who saw somebody fitting burglar bars and instantly knew that welding was a good career choice and applied for a learnership. Zono completed a national certificate in welding engineering and fabrication (NQF Level 2 and 3, Boiler making) before doing the trade test and calls welding as a career exciting, vast and challenging. Zono found that welding is not just about making burglar bars and gates but also about pipe work, boilers, aviation, ship building and many more industries. "There are various career and personal growth opportunities," states Zono. "If you set goals for yourself and you are determined enough you will achieve them".
Zono was the first black lady to qualify as an artisan at John Thompson and feels privileged to work amongst the best welders, being trusted to work on big contracts for customers such as Eskom, Engen, Caltex and for the Water Tube Division. "At first it was a challenging career choice, especially in such a male dominated industry and I had to work twice as hard to prove to everyone that this is where I belong, but due to my hard work and determination I got the recognition that I deserved," says Zono. "I am an opportunist and I would like to grow further in this Industry. I started as an apprentice, became a qualified welder and am currently a trainee welding inspector".
According to Suben Govender from John Thompson, "John Thompson provides intensive training before entering apprentices and trainees for formal training." The training starts with theory before the practical training follows. Employees receive training in Arc Welding (MMA), Flux core (Fcaw), Mig (GMAW), Sub Arc (SUB) and Tig (GTA). Between 2009 and 2012, 27 male welders were trained which greatly contributed to the alleviation of the skills shortage in the industry. John Thompson can therefore now compete internationally, especially as the company is working according to the international standards (ISO 3834)."
"Welding is currently addressing the high level of unemployment," says Govender. "The courses are short therefore students can find employment quickly. John Thompson currently employs 66 welders".
There are global welding opportunities in almost every facet of industry. Welders and welding inspectors can go into engineering, construction, automotive, aviation, maritime and many more career paths. Blue collar or white collar, at the end of the day it is about having a fulfilling career with growth opportunities in a vibrant industry while earning a good living. That is what will create a prosperous nation and a growing economy.