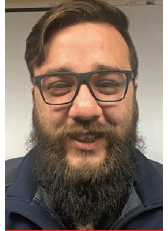 In the Spotlight – Marius Purcell
08 August 2017
In our series of profiles on  people who have made a difference to the welding/NDT Industry and the SAIW, we talk to Marius Purcell, Non-Destructive Testing (NDT) Manager at Sasol – when he's not "being a Jedi Knight!"
Born in 1990 in Tshwane he went to school in Evander, Mpumulanga where he matriculated in 2009.
Marius's post-school education was mainly through the SAIW – while working at Sasol where he completed the following :
Welding and Fabrication Inspector Level 1, and 2; Competent Person Pressure Vessels and Steam Generators; UT Level 1,2, and 3; MT Level 1,2 and 3: PT Level 1,2, & 3 and RT Level 3 and Radiographic Film Interpretation.
F: Tell us a bit about you career, how and where it began
MP: In 2010, the year after my matric, I was fortunate enough to be given the opportunity by Sasol to learn Industrial Inspection by means of a three-year learner Inspector training program. It wasn't until 2012 that I realised I wanted to specialize in the theoretical and practical practice of physics in the form of NDT. I became a certified SAQCC CP-PV in 2013 and a certified SAQCC NDT Level III in 2016. Today I'm involved in both these fields of practice.
F: You've been a Sasol employee since 2010 and seemed to have climbed the ladder relatively quickly?
MP: Well yes. I' like to think it's been quick – for a Jedi Knight that is! Currently I am managing all NDT related activities within the Sasol Group, which includes research and development, failure analysis and investigations, complex inspection technique evaluations and consultation on an International scale for all Sasol groups.
F: Any achievements that stand out for you?
MP: Amongst my achievements that I'm most proud of in this role comes from two case studies: – "Internal development of the Acceptance of HDPE Composite Material Evaluations Using Time-of- Flight-Diffraction" and "Online Inspection Technique Development and Implementations at Elevated Temperatures of up to 400°C". I must add that neither of the above would be a reality if it wasn't for the constant drive and motivation from, especially, John Mitchell and Paul Bruwer.
F: How did you get involved with the SAIW?
MP: Of course my first involvement with the SAIW was due to my early courses and then later specializing in NDT. It was the late Mark Mason who chaired the SAQCC NDT Committee that brought me in closer relation to the SAIW and introduced me to higher NDT education.
F: What do you think of the standard of Welding/NDT in South Africa and comment on the role that the SAIW is playing?
MP: Welding in South Africa is of a very high standard and is on par with international, industrial achievements. The SAIW has played an important role in this. Today it is the leading welder training organisation in Africa and provides important opportunities for the youth to get real jobs in a challenging economy. From an NDT perspective, despite the fact that there are world class individuals within the field in this country, we tend to neglect the technological growth of NDT. However, standardization for quality assurance in qualification and certification, the exception to the latter, is where the SAIW plays a vital role in providing highly trained individuals delivering certification of the highest international standards.
F: What do you feel about the prospects for the inspection industry in general in South Africa in the long term?
MP: Inspection in South Africa is a field with a lot of potential for growth. With the Pressure Equipment Regulations now providing national conformity for all assets helps the inspection field to be more quality driven. With the latter conformity and regulatory inspection in place, Inspection in South Africa is a valuable asset which will enjoy a productive and harmonious future.
F: Tell us something about your personal life:

MP: I'm married to the most beautiful, courageous and strong-willed woman in what we perceive as our universe, Thea Purcell. I have a little boy Dylan Wagner, who is going to be a Jedi Knight and a tiny Padawan who is expected in September. I'm a straight-up nerd that games, reads comics and collects action figures. I spend a considerable amount of my time on science and philosophy and I'm hoping to become a writer of Afrikaans literature and philosophy one
day.
F: How does NDT fit into all of this?
MP: I'm weird. That's how !