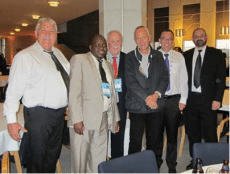 IIW Annual Assembly 2015 Deals with Vital Issues
17 November 2015
The 68th International Institute of Welding (IIW) Annual Assembly and International Conference held from June 28 to July 3, 2015 in Helsinki, Finland was, according to Southern African Institute of Welding (SAIW) executive director, Sean Blake, not only of a high standard, but it also dealt with vital issues in terms of the welding and related industries' role in future environmental sustainability. "The main outcome of the conference was that design solutions incorporating high strength steels, stainless steels, aluminium and other advanced materials provide considerable potential for energy savings, improved performance and lower costs," Blake says.
Representing South Africa in Helsinki were SAIW President Morris Maroga; executive director, Sean Blake; recently retired executive director Jim Guild, who is the current Chairman of the IIW's International Authorisation Board (IAB), a body created to develop and implement the IIW's international qualification, certification and authorisation systems; Herman Potgieter who represented SAIW Certification; Pieter Pistorius and Riaan Loots from the University of Pretoria.
Blake says that changes were discussed to the operation of IAB to meet the demands of a changing global environment. Also, the IIW Welding Inspection programme was discussed which is currently under review and these changes should be implemented during 2016. The conference also emphasised that the importance of raw materials and energy efficiency is constantly growing, which has motivated many industries to perform total lifecycle cost assessment and environmental footprint computations, both of which now integrally influence design and purchasing decisions.
Blake represented South Africa on both the International Authorisations Board (IAB) as well as several of the technical committees and returned with renewed determination to encourage local fabricators to raise their game with respect to the use of modern communication technology for on-line monitoring of quality systems.
"We are falling behind when it comes to skills," says Blake. "For South Africa to become a preferred destination for fabrication, we need to adopt technology for better quality systems management and we must renew our efforts to implement internationally approved welder training programmes such as the IIW International Welder programme in training schools across the country," he says.
He adds that advanced technologies, including virtual training methodologies, are advancing at a rapid rate. "In a country where we have a critical skills shortage, we need to adopt all the tools available to address this issue," Blake says.
SAIW President, Morris Maroga, represented South Africa in commission XIV which concerned itself with "quality management in welding and applied processes." He also attended IAB group A & B and members meetings as an observer. "Education and Training as well as welding quality management and maintaining the plants with local skills remain a major challenge in completing the current infrastructure development projects in South Africa," Maroga says.
He adds that he is confident that theSAIW's renewed focus will enable it toreach its target with regard to ensuringa generation of a reliable welding skillsbase for our benefit and for the benefitof generations to come. "Only whenSouth Africa is able to successfullyexecute a major fabrication orconstruction project including plantmaintenance with local skills, will webe able to say that we have achievedour goals," Maroga concluded