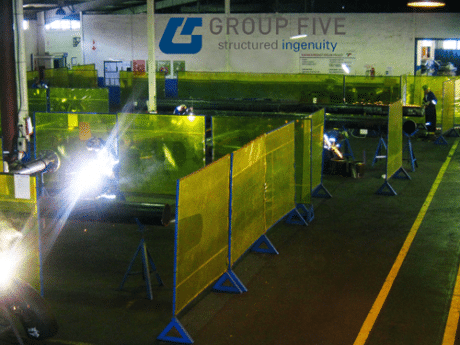 Group Five scoops another accreditation
14 March 2011
Group Five Oil and Gas (GFOG) has done it again! After being the first construction company in the country to receive an ISO3834 accreditation and the first site-based company certified in accordance with the Southern African Institute of Welding (SAIW) Welding Fabricators Certification Scheme, it is now the second company to have two of its divisions separately accredited.
First it was GFOG's Chevron Refinery operation in Cape Town that received accreditation and now it's their Durban Prospecton workshop that has successfully applied and, according to GFOG quality manager/engineer Pravin Laljit, the operation went very smoothly.
"The SAIW undertook a very comprehensive technical audit of the facility and I am very pleased that there were no 'non conformance reports or 'findings' recorded. There were only a few minor observations, which were promptly dealt with," says Laljit.
SAIW Certification's John McLeish agrees that this audit went smoothly. "The operation is thoroughly professional and although the audit was very stringent, and in line with the stipulations of ISO3834, they came through with flying colours. It was one of the best organised units we have ever come across," says McLeish.
He adds that Pravin Laljit, Krubeshen Naicker QA/QC coordinator and workshop manager Andrew Green and their team must be congratulated for getting things ready in a short space of time and for achieving such professionalism.
The workshop specializes in a range of materials and pipe technology for the steam, petrochemical, and pulp and paper industries. It is currently the main fabricator of all the process piping for the Transnet NMPP Pump Stations one, three and five.
McLeish explains the difference in the two audits conducted at Group Five. "At the Durban workshop, GFOG is in complete control of the welding process whereas at the Cape Town refinery the conditions are different. As in most site-based operations, they do not have direct control of welding procedures, equipment and consumables and activities like non-destructive testing and post-weld heat treatment, as these are generally supplied by the client.
In the Chevron refinery case, the SAIW Certification auditors adapted their audit focus to concentrate on the management of the supply of goods and services from the client who is, in effect, the main supplier and, in turn, GFOG developed their site-based quality system taking into account this situation.
Dave Morgan, General Manager GFOG says that the accreditation in Durban is yet another of the business unit's achievements in its philosophy of 'continuous improvement'. "This is a genuine milestone, not only for GFOG but also for the group as a whole. It is an excellent example of our company's commitment to quality within a very competitive industry."
With companies like GFOG, and others in he industry achieving such accreditation, there is little doubt about the positive manner in which fabricators have embraced the SAIW Welder Fabricator Certification Scheme.
"The numbers speak for themselves," says SAIW's Sean Blake. "We have recently accredited 13 more companies, there are more than 30 which are currently in the process of getting accredited and over 50 others that have formally indicated they want to be," says Blake. SAIW executive director Jim Guild says that while he is encouraged by the demand, there should be no confusion about who the Scheme is for. "While many large and well-known companies have embraced it, the scheme is pertinent to all fabricators, no matter their size. The benefits for smaller companies cannot be overestimated, as they compete for work against so many quality organisations locally and abroad," he says