Focus on Standards
ISO 15614-1 Second edition 2017-06
Specification and qualification of welding procedures for metallic materials — Welding procedure test — Part 1: Arc and gas welding of steels and arc welding of nickel and nickel alloys
The new version of the standard was published during June 2017 as ISO 15614-1:2017 and is in the process of being adopted by the SABS as SANS 15614-1:2017.
The 2017 version differs significantly from the previous version in format, with some major changes in technical content. This article presents some of the most significant differences between the 2017 and the previous version of the standard, explains the rationale behind the changes and provides some practical guidance on how they are to be dealt with.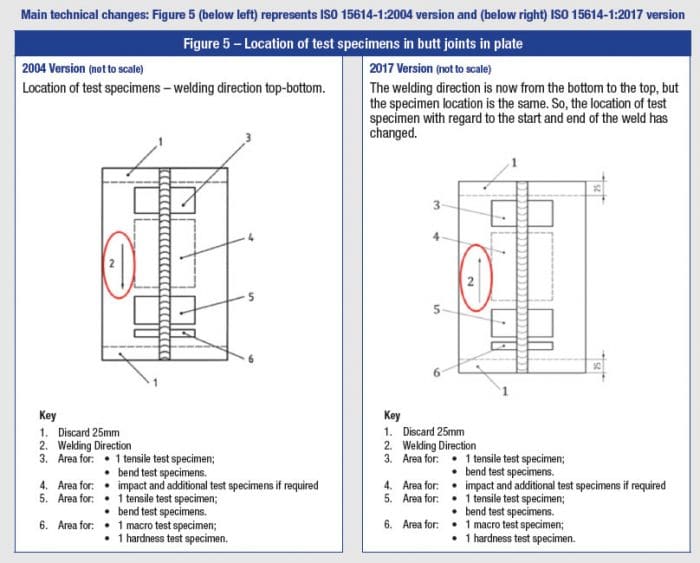 New: Levels of procedure qualification
The single biggest change is that ISO 15614-1:2017 includes two levels of welding procedure tests, designated by Levels 1 and 2. Level 1 is based on requirements of Section IX of the ASME Boiler and Pressure Vessel Code (ASME IX) and Level 2 is based on the previous issues of ISO 15614-1. In Clause 1 Scope it states:
"Two levels of welding procedure tests are given in order to permit application to a wide range of welded fabrication. They are designated by Levels 1 and 2. In Level 2, the extent of testing is greater and the ranges of qualification are more restrictive than in Level 1.
Procedure tests carried out to Level 2 automatically qualify for Level 1 requirements, but not vice-versa.
When no level is specified in a contract or application standard, all the requirements of Level 2 apply."
Care should therefore be taken in identifying the testing requirements and the range of qualification for the particular welding procedure test level.
Previous welding procedure qualifications
The validity of previous welding procedure qualifications is addressed in different Sections of ISO 15614-1:2017, as follows:
Introduction: "All new welding procedure tests are to be carried out in accordance with this document from the date of its issue. However, this document does not invalidate previous welding procedure tests made to former national standards or specifications or previous issues of this document"
Clause 1: "Specification and qualification of welding procedures that were made in accordance with previous editions of this document may be used for any application for which the current edition is specified. In this case, the ranges of qualification of previous editions remain applicable"
Clause 1: "It is also possible to create a new welding procedure qualification record (WPQR) range of qualification according to this edition based on the existing qualified WPQR, provided the technical intent of the testing requirements of this document has been satisfied. Where additional tests have to be carried out to make the qualification technically equivalent, it is only necessary to perform the additional test on a test piece"
This can be interpreted as the following:
Previous welding procedure qualifications remain valid and the ranges of qualification stay the same, even when ISO 15614-1:2017 applies.
When contracts make reference to ISO 15614-1:2017 and a manufacturer wishes to apply an existing WPQR, it is recommended that manufacturers integrate the existing WPQR with an alignment sheet, showing the new ranges of qualification according to ISO 15614-1:2017.
In the next Focus on Standards a comprehensive review of the changes to Clause 8 – Range of Qualification, will be addressed.