Consumable Testing and Diffusible Hydrogen in Weldments
SAIW a one-stop-shop for consumable testing and verification
Confidence Lekoane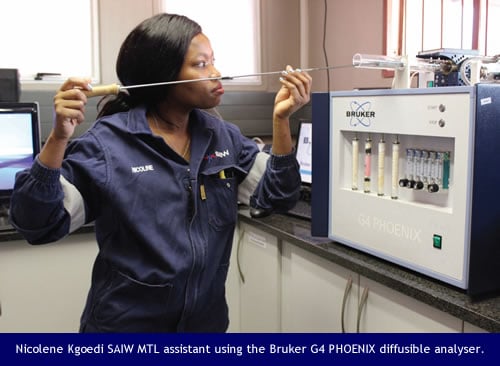 Despite it being a subject that has been intensely researched over the decades, Hydrogen in weldments of steel, particularly high-tensile and high strength low-alloyed steels continue to limit the performance of components due to the negative effect on the properties of the metal. Embrittlement, cracking and pore formation are the common effects of hydrogen in steels.
Hydrogen-induced cracking also known as cold cracks is a well-known and dreaded phenomenon. Cold cracks in welded joints can be caused by hydrogen which enters the material during the fusion welding process. Sources of hydrogen may arise from the filler materials' humidity when welding at ambient atmosphere, additives in filler wire or as condensed water near the weld zone.
In SMAW, FCAW and SAW welding process flux is used in the consumable to shield the weld pool from oxidation during welding. The flux consists of several ingredients including chemically bonded water. During welding the water (H2O) will dissociate to form hydrogen ions H+ which enter the weld pool. At high welding temperatures the solubility of hydrogen in steel increases, allowing large amounts of hydrogen into the weld pool. However during cooling the solubility significantly decreases, faster cooling rates will result in hydrogen entrapment and the weld will become more prone to cold cracking. It is for this reason that the knowledge of the hydrogen content in welds produced is of high importance for the material development as well as for process control and quality assurance.
In 2018 SAIW materials testing laboratory (MTL) has extended its testing scope to include diffusible hydrogen testing of weld seams and welding materials in accordance to ISO 3690 and AWS 4.3. Unlike the traditional mercury method, SAIW MTL's newly commissioned Bruker G4 PHOENIX diffusible analyser uses the carrier gas hot extraction method. The basic principle for the determination of diffusible hydrogen is made using the carrier gas (Nitrogen 99,999%) with hot extraction in a tube furnace and following detection of the evolved hydrogen with a thermal  conductivity detector.
Welding consumable testing has for a long time been required by industry with many service providers providing the separate components to the testing required. Over the past few years the demand for consumable testing has increased with industry also requiring EN 10204 type 3.2 inspection certification where an impartial and independent body is appointed to verify the material's chemical and mechanical properties.
SAIW has been in the front line of testing welding consumables with a fully equipped material testing laboratory with all the required equipment and skills. With a qualified welder onsite, heat treatment furnace, a NDT and mechanical testing laboratory and a newly commissioned diffusible hydrogen tester SAIW offers a one-stop-shop for consumable testing and verification. Our material testing laboratory is accredited by SANAS as conforming to the requirements of ISO 17025 in order to provide our customers with assurance of reliable consumable testing results.