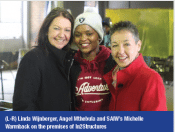 Angel In Heaven Over Her Internship With Leading Fabricator
Nonhlanhla Angel Mthebula says she's "in heaven"with her internship with leading dome-structures manufacturer In2Structures. "I have been working hard at the SAIW to progress in my International Welder programme and I will now have the chance to implementwhat I have learnt in the "real world"," she says.
The internship materialised after In2Structures made a donation to the SAIW Foundation for Angel's training on the SAIW's IIW International Welder training programme. "As a result of this donation, Angel's training is being extended to include GMAW welder training and welding aluminium and, also, part of the deal was that she would do the internship at In2Structures," says SAIW executive director Sean Blake.
Blake adds that this agreement between In2Structures and the SAIW represents an excellent win-win situation. "As In2Structures'core business is welding, they wanted to give something back to the welding community while improving their BBBEE score on skills development through investing in the training of a black female welder. On the other hand, the SAIW Foundation requires funds to train more previously disadvantaged people in the welding field. This was such an easy way for both parties to meet their individual objectivesand we hope that other companies follow In2Structures example,"Blake says.
Angel is part of the first ever group of trainees that was brought to the SAIW for training through funding by the SAIW Foundation, acompany which the Institute started as a public benefit organisation to provide training to disadvantaged individuals in a wide range of areas including welding and inspection, the training of trainers forwelding and related technologies and more.
In2Structures is an ideal place for a young trainee to get practical welding experience. Part of the Gearhouse group, it is one ofAfrica's leading fabricators of custom-designed dome structures, which are generally used as portable facilities for a variety of uses.
"We are delighted to have Angel on board," says In2Structures'director Linda Wijnberger. "The structures we fabricate are clearspan, load-bearing domes in which the welded joints are the critical foundations of the structure's stability. Angel will be learning from the best and this will be an important step in her welding career," she says.