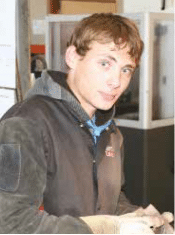 Young Welder on Track for São Paolo
29 June 2015
Jacobus van Deventer, the 2015 winner of the Young Welder of the Year is on track in his preparations for the WorldSkills competition to be held in Sao Paulo, Brazil, from 11-16 August 2015, where he will represent South Africa.
"Jaco is only 20, but the quality of his work is beyond his years," says SAIW's Etienne Nell, the Young Welder of the Year convenor. "He also has an excellent work ethic and is willing to learn. We are hoping for a competitive showing by him in Sao Paolo," says Nell.
SAIW Executive Director, Sean Blake, says the Institute is pulling out all the stops to ensure that Jaco is fully prepared for the tough international competition. "We have brought in an aluminium specialist to help train him in this material and we have also brought in the very same Lincoln machine that he will be using in Sao Paolo," says Blake.
Blake adds that Jaco's employers, Steinmuller, have been most cooperative allowing Jaco off work to train for Sao Paolo. "In fact they got him training on their premises immediately after the competition and then he moved to the Institute where he is in his fourth month of intensive preparation," Blake says.
Meanwhile Nell says that interest in the Young Welder of the Year competition is growing. "The competition has generated a great deal of interest from all over the country. With 20 finalists this year, we had a record number of participants in what has become the foremost skills test for young welders in South Africa. We expect participation to continue growing in future years."
Blake says that the competition is an industry initiative and would not survive without its sponsors. "We are grateful for our sponsors who understand the growing importance of this competition in terms of encouraging welding as an exciting and sustainable career for the youth."
The 2015 competition was sponsored by: Abicor Binzel, Afrox, AFSA, Air Products South Africa, ArcelorMittal, Columbus Stainless, ESAB, Hulamin, Laser Cut Varios, Macsteel VRN, Sangari, Sassda, Thuthuka Welding Products and Welding Alloys South Africa.