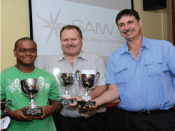 Young Welder of the Year Competition
01 August 2014
"The increased involvement of those who are teaching the youth welding skills is most encouraging and with their support we will be extending the footprint of the competition quite considerably," Blake says. "We are particularly pleased that Steinmuller has opted to be on the organising committee and we look forward to working with them." In terms of the extended footprint Blake says that there will be regional competitions in November 2014 in the Western Cape, KZN and Mpumalanga. "This will give a lot more youngsters the chance to get into the finals in Johannesburg and will, of course, substantially increase awareness of the Young Welder competition," Blake says.
But we also plan to use the social media like Facebook, Twitter and others, which are appropriate for the age-group of the participants in the Young Welder competition. We will also be making a special video CD of the competition, which will be used as a promotional tool," says Blake.
All young welders in South Africa, who will not be more than 22 years of age on December 31, 2014, are invited to enter the competition. Entrants will have to show that they have mastered four welding processes – shielded metal arc welding (SMAW), gas tungsten arc welding (GTAW), gas metal arc welding (GMAW) and flux-cored arc welding (FCAW) – across the three materials or in their chosen material.
Entries close on the 20th October 2014
For more information please contact: Etienne Nell or Frans Vorster on
011 298 2100.